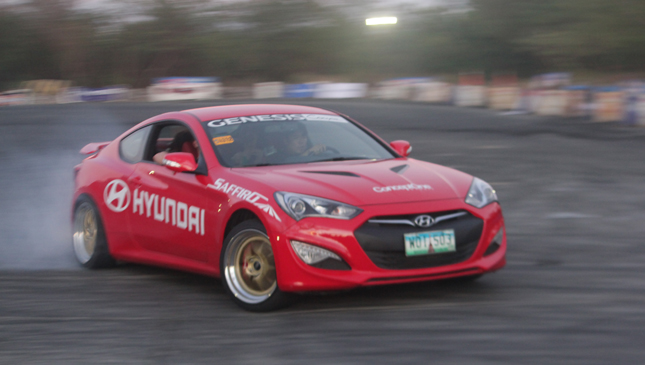 The Quirino Grandstand in Manila will become a playground for some of the country's finest drifters this coming weekend--July 4 (Saturday)--as Hyundai, in cooperation with Lateral Drift Productions (LDP), will be holding Round 5 of the 2015 Hyundai Lateral Drift Championship Series, which aims to showcase the skills of both amateur and professional drifters in the Philippines.
The grandstand's parade ground, a preferred LDP event track since it first started back in 2005, is a favorite among drifters. Its long, straight pavement allows drifters to reach speeds in excess of 120kph before going on a sideway drift, to the delight of both spectators and fellow drivers.
The fifth round will feature two-time defending champion Gio Rodriguez of Team Autocustoms, Rounds 3 and 4 winner Boodie Dabasol of Team GMW, and John Boban of Team DriftMob among other drivers. Rodriguez is currently in the top spot, while Dabasol and Boban are tied for second. Ralph Tan and Jet Mathay round out the top five drivers for the series. All five drivers are currently in the running to take home overall-champion honors this year. Other notable drivers in the event include 2013 amateur division champion Mark Bernardo, and Team DriftMob driver Ejay Malibiran.
ADVERTISEMENT - CONTINUE READING BELOW ↓
Returning to judge the competition are Japanese husband-and-wife duo Kimihiro Obata and Hiromi Kaijikuma. The pair also judged the 2013 and 2014 Hyundai Lateral Drift Pro-Am Championship Series.
The Hyundai Lateral Drift program will begin with a drivers' practice at 8am, followed by the Amateur series at 11am. The Pro division will begin competition at 3pm. Admission to the event is free, but if you still can't make it, a livestream of the competition will be available on sprocketph.com. Be sure to drop by, as the competition is really heating up toward the end of the series.
ADVERTISEMENT - CONTINUE READING BELOW ↓
Recommended Videos