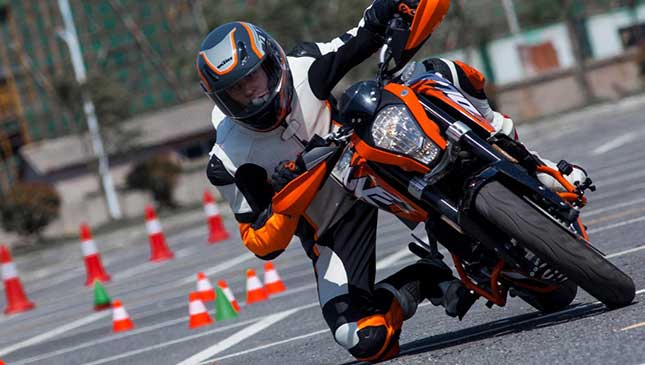 Dukers, are you ready for some action?
If you're itching for speed, suit up and prep your Duke motorbike because KTM Philippines is hosting tomorrow, February 25, the country's first Dukehana. Named after the term Gymkhana motorsport challenge, it is a motorcycle time trial event that will test a rider's skill in precision and fast maneuvers. Participants will gun for the shortest time maneuvering their Duke bikes on a paved course restricted by orange plastic cones and other obstacles.
According to Adventure Cycle Philippines (local manufacturer and distributor of KTM bikes) marketing head Ana Lourdes Lumban, all owners of 200 Duke, 390 Duke and 690 Duke are welcome to join the time trial, which will be staged on a makeshift track at the parking area of Circuit Lane Makati.
Continue reading below ↓
Recommended Videos
The participants will execute 180-degree and 360-degree spins as quick as possible without hitting a cone. Aside from doing a jump start, hitting a cone or laying their feet on the ground while attacking the track will result in penalty. The participants will also negotiate their Duke machines on tight parking boxes and do Figure 8s.
"The fastest rider with the least number of penalties or no penalty at all win the event," Lumban explained.
The Dukehana competition happening this Sunday is the first of the three-leg competition before the fastest Duke rider is determined. The next races will be held in Davao on April 28 and Cebu on June 2. Cash prizes await winners of each leg. The three overall winners for each Duke model from the three legs will automatically be the country's representatives at the Dukehana Asia Final, which will take place in the latter half of the year.
The Philippines now officially joins the ranks of other Asian countries—Bangkok, China, Hong Kong, and Taiwan among others—who have staged their own races, thus giving Filipino riders an entry to this prestigious international circuit.
So, what are the requirements?
First, you have to ride your own Duke motorbike. Second, you must wear proper riding gear (full-face helmet, high cut shoes, and gloves). The best part? No registration fee is required and participants are provided free lunch.
According to race agency head Al Camba, scrutineers will inspect all Duke bikes prior to the race to ensure that they're safe. Parts modifications are allowed as long as the bike retains its original Duke form.
As of this writing, a total of 36 riders have registered online for the 200 Duke and 390 evenst. However, organizers said that if there are at least three 390 Duke owners who will walk in and register on Race Day, they will be allowed to join and race under this category.
Registration starts at 7am, guys. Best of luck to all participants!