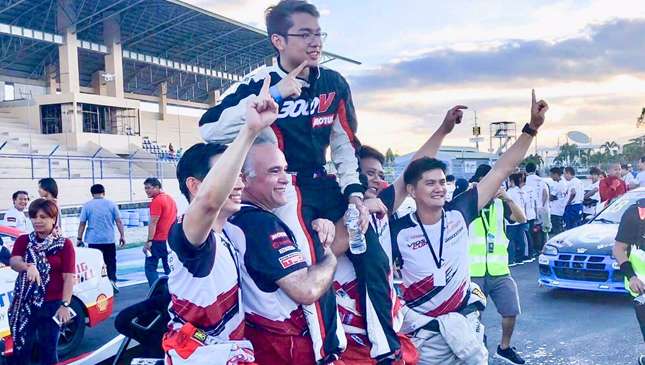 Former Toyota Vios Cup champion Luis Gono once again showcased his skill on the track, this time by leading his team toward the 2017 Philippine Endurance Challenge championship at the Clark International Speedway.
Team Tuason Racing finished as overall champions this year, despite driving a relatively underpowered V1-spec race car running on a 1.5-liter Toyota Vios engine. What's more, the vehicle only packed a 20-liter fuel tank, meaning the team had to maximize the car's performance each time it refueled.
"Our car was not designed for endurance racing and we even had to really push it every time we gassed up because our gas tank only had a 20-liter fuel capacity," explained veteran racer and event organizer JP Tuason, who also drafted Gono to be one of five drivers for Team Tuason Racing. The other four members were composed of Bjorn Ongtiaobok, Ferdie Ong, Louis Ramirez, and Mike Tuason.
The key to this year's championship? According to team manager Miguel Ramirez, they tried to maximize fuel consumption by completing the most number of laps within the shortest amount of time. What's more, the team tweaked the car to suit the driving style of its fastest member—none other than Luis Gono.
"We strategically chose who would drive the car at this point of the race and in the end, it was the youngest who carried the team to the finish line," added Ramirez.
Continue reading below ↓
Recommended Videos
Despite his experience behind the wheel, Gono said that he still pushed himself to the limit. "It was a learning experience for me and my body ached after the race because I drove for four hours," he said.
Eight hours behind the wheel is no joke, but in the end, it was a physical sacrifice well worth it as the team came out on top. Congratulations to Team Tuason Racing for nabbing this year's Philippine Endurance Challenge championship.