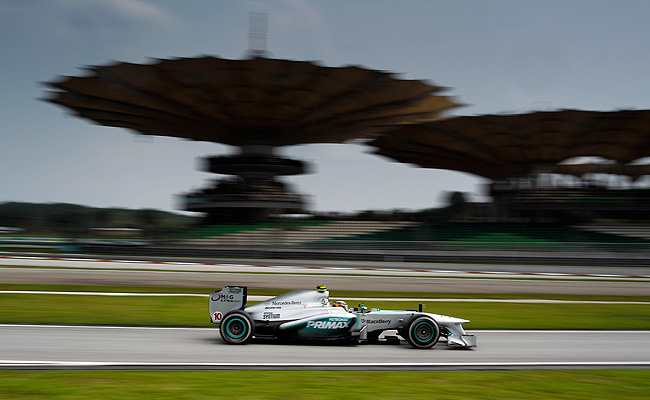 Sepang International Circuit, the organizer of the Malaysian Grand Prix, has kicked off in the Philippines the regional promotion of its 2014 Formula 1 race.
SIC will continue the One Ticket Unlimited program it launched last year, which gave ticket holders an all-access pass not only to the activities held during the three-day Grand Prix weekend--like the various motorsport activities outside the track, from drifting to rallying, as well as a public track walk and a one-hour exclusive autograph session with all the drivers--but also to shopping and dining discounts and privileges.
A flurry of activities, thanks to the Malaysian government's "Visit Malaysia 2014" tourism program, will also coincide with the Grand Prix weekend, with popular foreign acts invited to perform in a couple of events in Kuala Lumpur. Although SIC chief executive Dato Razlan Razali declined to mention who the performers are, he did say that one "will be bringing in his friends," while the other is a judge on a popular reality TV show. Also, while these events are largely open to the public, Razali said that a closed area will be reserved for Grand Prix ticket holders.
Of course, the most important event other than the race itself will be the after-race concert, and this year, it will be headlined by electronic dance music legend Calvin Harris.
"We always make it a point that the Malaysian Grand Prix ticket, with its One Ticket Unlimited program, will be the most value-for-money Grand Prix ticket that's available to the public," added Razali.
The 2014 Malaysian Grand Prix will be held from March 28 to 30. Ticket prices range from P1,180 to P26,030, while luxury suites start at P51,482 per person. Tickets to the race can still be booked through local ticketing agent Red Rock Travel.
The prices of the tickets are as follows:
A. MAIN GRANDSTAND (NORTH UPPER TIER)
1. Diamond - Sold-out
2. Sapphire - P26,030
3. Emerald - P26,030
4. Ruby - P19,560
B. MAIN GRANDSTAND (NORTH LOWER TIER)
1. Crystal - P17,950
2. Turquoise - P13,090
3. Jade - P13,090
4. Garnet - P9,860
C. MAIN GRANDSTAND (SOUTH UPPER TIER)
1. Topaz - P8,390
D. MAIN GRANDSTAND (SOUTH LOWER TIER)
1. Citrine - P5,000
E. MAIN GRANDSTAND (TOWER)
1. Tower North Lower Tier - P6,480
2. Tower South Lower Tier - P6,480
3. Tower 1 - P6,480
4. Tower 2 - P6,480
F. GRANDSTANDS
1. K1 - P9,710
2. F - P4,120
G. HILLSTANDS
1. C2 (covered) - P2,360
2. K2 (uncovered) - P1,180
3. C1 (uncovered) - P1,180
4. C3 (uncovered) - P1,180