Last month, we brought you Eddie Jordan's assertion that Lewis Hamilton will move to Ferrari in 2021. Well, one piece of news that helps catalyze that has been confirmed today: Max Verstappen is staying with Red Bull Racing until 2023.
"I am really happy to have extended my partnership with the Team," says Verstappen, though we're sure the uppercasing of 'Team' wasn't his. "Red Bull believed in me and gave me the opportunity to start in Formula 1 which I have always been very grateful for.
"Honda coming on board and the progress we have made over the last 12 months gives me even more motivation and the belief that we can win together. I respect the way Red Bull and Honda work together, and from all sides everyone is doing what they can to succeed. I want to win with Red Bull and our goal is of course to fight for a World Championship together."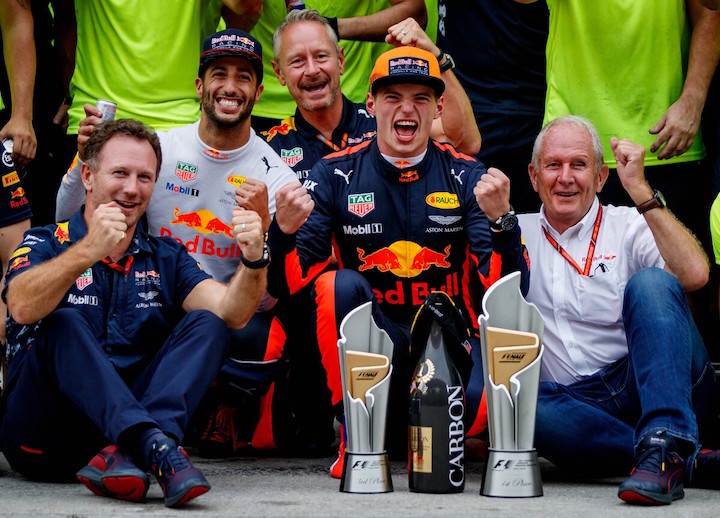 Continue reading below ↓
Recommended Videos
His boss, Christian Horner, also said some words, with the capital Ts still flying around with abandon: "It is fantastic news for the Team to have extended our agreement with Max up to and including the 2023 season. With the challenge of the 2021 regulation changes on the horizon, continuity in as many areas as possible is key.
"Max has proven what an asset he is to the Team, he truly believes in the partnership we have forged with our engine supplier Honda, and we are delighted to have extended our relationship with him."
So, Verstappen staying at Red Bull means the Hamilton-Leclerc partnership can still be a thing. Do you think EJ's right? And do you think Max can rack up more trophies at Red Bull?
NOTE: This article first appeared on TopGear.com. Minor edits have been made.