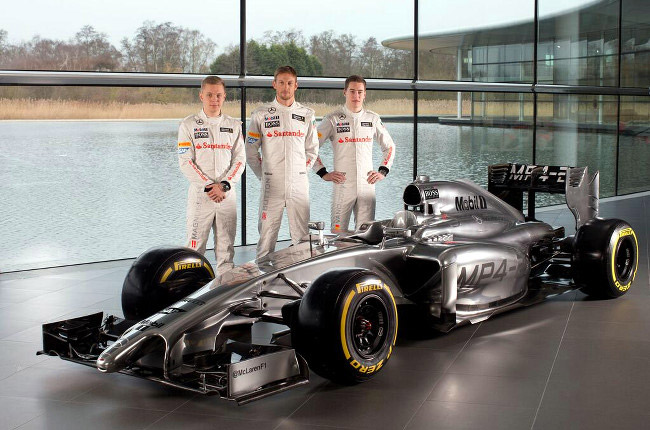 McLaren is determined to bounce back from its winless and podium-less 2013 season, and if having a pointed nose on the 2014 car is a means toward that end, then so be it. Here's the MP4-29 in all its silver-shrouded and anteater-snouted glory.
This marks the British squad's final season with current engine partner Mercedes, before it returns to Honda propulsion for 2015. That's not to say, however, that whatever inroads it makes this year--with the MP4-29 in general and the Mercedes power units in particular--cannot be carried over beyond this season. As team managing director Jonathan Neale states: "We know the need for consistency initially outweighs the need for performance--the winter tests won't be about chasing setup or refining the car; the envelope of performance is likely to be so wide and so relatively unknown that the winter--and to some extent the opening races--will be about understanding the operational boundaries of the car as best we can."
"To achieve this, we need a consistent platform--one that responds positively to changes," Neale adds. "Moreover, the work of the engineers and designers to understand and interpret trackside data will be more important than before. That's because this year, more than ever, will come down to a development race: I don't necessarily think you can expect the car that wins the opening race to be the car that leads the championship charge, something we've often seen in the past."
Continue reading below ↓
Recommended Videos
Instead, Neale continues, "it will be all about a team's ability to react and respond. We already have an update package that we're readying for race one, and we're discovering new things in the [wind] tunnel, or in CFD, all the time. Once we start track testing, I think you'll see an intense throughput of ideas and concepts--that's the nitty-gritty that will win or lose the world championship."
Speaking of the nitty-gritty, we've noticed there is no statement from team principal Martin Whitmarsh in the official MP4-29 launch press release. This follows the return of Ron Dennis as McLaren's group chief executive officer--a role he will fulfill alongside his duties as group chairman. When the announcement was made last week, Dennis said: "During February, I will articulate a new group strategy and implement the organizational structure best suited to achieving it. I am excited by the prospect of returning to this role and working with my many colleagues and fellow shareholders to fulfill our objective--which is to win at whatever we do."
Rumored to be in contention for Whitmarsh's post are Ross Brawn, who left Mercedes at the end of 2013, and Eric Boullier, whose departure from Lotus was announced a few hours before the MP4-29 launch. McLaren has confirmed it will not be issuing any statements with regard to this for now. So in the meantime, we leave you with this video, which discusses the technical aspects of the MP4-29.
If you're viewing this on a mobile device and can't see the video, please click here.