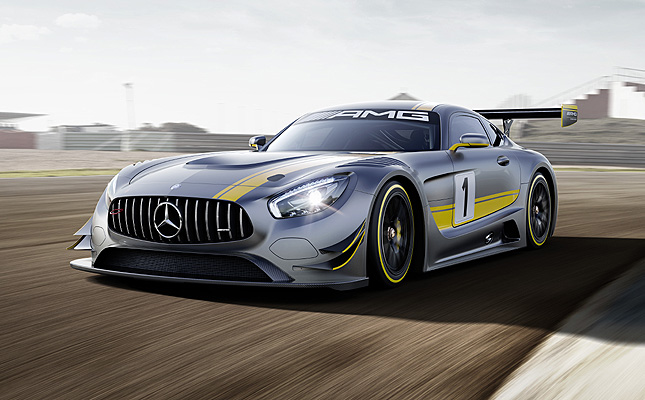 Here's the Mercedes-AMG GT3, the race car that's based on the Mercedes-AMG GT and was developed to comply with the FIA's GT3 race rules and compete in "the world's most hotly contested customer race series."
To debut at the Geneva Motor Show, the GT3 capitalizes on the strengths of the GT road car like its low center of gravity, perfect weight distribution and wide track, which, according to the German carmaker, "guarantees precise cornering properties, high lateral acceleration, first-class agility, a high level of traction and low inertia when having to change direction fast."
Underneath the hood of the GT3 is the same 6.3-liter V8 engine of the SLS AMG GT3 race car that, paired with a six-speed sequential racing gearbox, facilitates optimum weight distribution.
The GT3 makes extensive use of lightweight materials, starting with the rigid aluminum space frame of the road-going GT. The driver is then protected by a carbon-fiber seat pan and an integral roll cage made from high-tensile steel. To reduce the vehicle's weight even further, the engine cover, the doors, the front wing, the front and rear aprons, the sidewalls, the side skirts, the diffuser, the boot lid and the rear aerofoil are also all made from carbon fiber.
Continue reading below ↓
Recommended Videos
Aerodynamics also played a role in the GT3's design as the widened body, the large air intakes, the diffuser and the rear aerofoil were specifically designed "for the purpose of maximizing power output and aerodynamic performance."
"We are entering a hard-fought and hotly contested competitive environment with the new Mercedes-AMG GT3," said Mercedes-AMG board chairman Tobias Moers. "The high technological standard and fair race rules are spurring us on to push to take pole position with our new customer racing car. You can only give credible proof of your ambition to lead if you're beating the very best in the game."