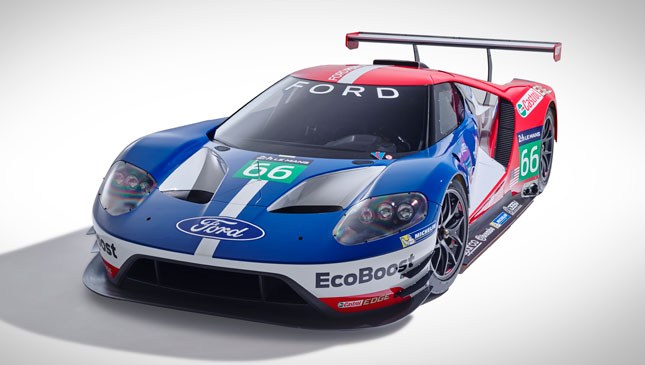 Keen racing enthusiasts know that the original Ford GT40 was a product of the rivalry between Henry Ford II and Enzo Ferrari. In the early '60s, Ford was in talks to buy Ferrari, but things went sour when it came to who ran the racing arm.
Ford vowed to kick Ferrari's ass at Le Mans, so it assembled a talented team that included Carroll Shelby, who also happened to dislike Ferrari. And from this dedicated group of people who didn't like Il Commendatore, the legendary GT40 was born. While it wasn't an instant success, the team's hard work paid off when Ford's contender finished with a 1-2-3 victory at Le Mans in 1966.
Earlier this year, Ford unveiled its all-new GT. Its race-inspired engineering led a lot of people to speculate that Ford would return to Le Mans with a racing version of this production sports car. It turns out the speculations and rumors were true.
ADVERTISEMENT - CONTINUE READING BELOW ↓
Ford made the big announcement at Le Mans with the unveiling of the new GT race car. The American carmaker is returning to the Circuit de la Sarthe in 2016. While the original GT40 raced in the Le Mans Prototype class, the new GT will compete in the production-based LMGTE Pro class. It will compete in the same class as the Aston Martin Vantage V8, the Chevrolet Corvette C7R, the Ferrari 458 Italia, and the Porsche 911 RSR. One big advantage of the GT is that it was developed to go racing from the onset. According to Ford group vice president Raj Nair, the three key areas for success on the track are aerodynamics, EcoBoost power, and light weight.
While the GT race car co-developed with Multimatic Motorsports might be all-new, its Roush Yates 3.5-liter EcoBoost V6 had already undergone testing for two years. The engine made its debut at the Tudor United SportsCar Championship back in 2014, and has propelled Ford and Chip Ganassi Racing to victories at the 12 Hours of Sebring and the Rolex 24 at Daytona. Ford and Chip Ganassi Racing hope to repeat the same success at Le Mans next year with the GT.
ADVERTISEMENT - CONTINUE READING BELOW ↓
Recommended Videos
The new Ford GT race car will participate in the upcoming FIA World Endurance Championship and Tudor United SportsCar Championship. Will Ford deliver a winning race car? That remains to be seen on the track.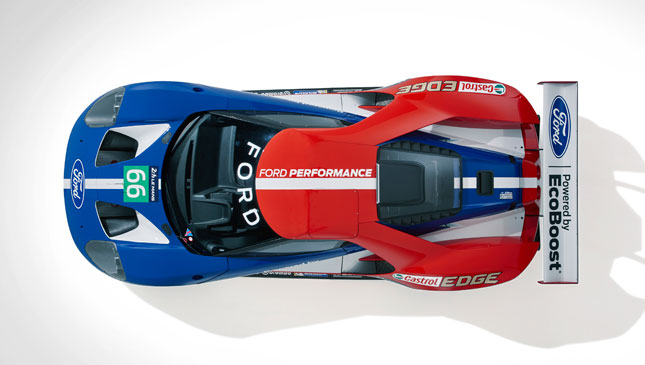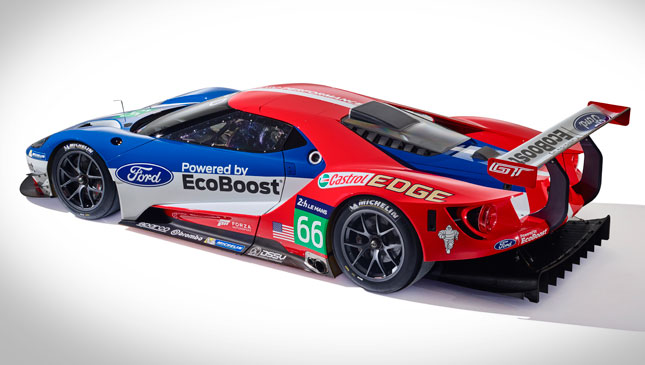 ADVERTISEMENT - CONTINUE READING BELOW ↓