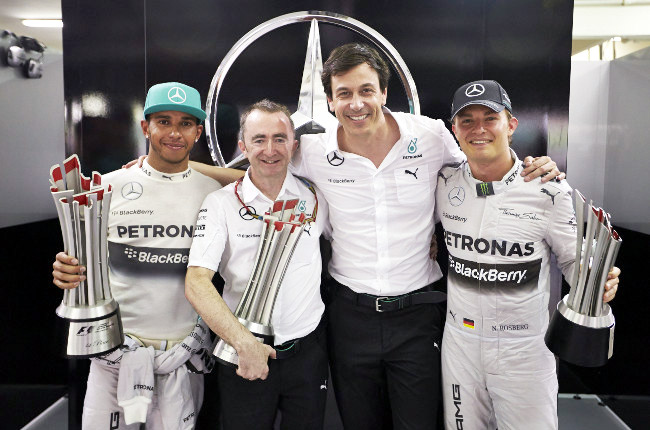 To confirm what we've seen in the season opener, Red Bull is looking like it's in much better shape to challenge at the sharp end of the Formula 1 grid, troubled preseason notwithstanding. In Malaysia, however, the champion squad's sole surviving car crossed the line nearly 25sec behind the winning Mercedes. Those Silver Arrows were never really pushed to the limit; both were able to pull away from pursuers at will, perhaps with one managing the feat better than the other. So, a couple of races in, it seems the new F1 era is set to be dominated by a single team as in previous years. Let's hope it's only for the time being.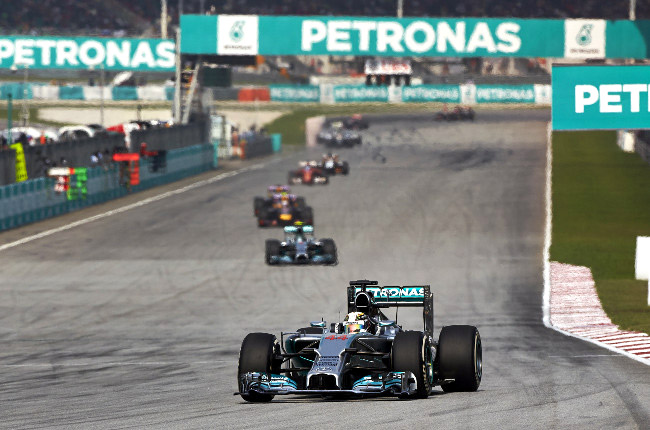 It was a good day for Lewis Hamilton...
What a way to bounce back from his retirement in Australia. Again, the Brit set himself up for the race in the best way possible by taking pole on Saturday in difficult wet conditions. The gap to P2? "Six hundredths! Six hundredths!" Sebastian Vettel exclaimed during post-qualifying weigh-in as he gave his competitor a friendly (but hefty) shove.
Perhaps in retaliation, Lewis later declared that his P1 lap wasn't quite the fastest he could go. And with no mechanical or electrical gremlins to bother his Sunday drive, he went on to claim his first win of the season and his first career victory in Malaysia.
...but a bad one for Daniel Ricciardo.
The saga of Aussie bad luck continues over at Red Bull. Here's the tale of Ricciardo's season thus far: DSQ in Melbourne; 10-second stop-and-go penalty, broken rear wing, and DNF in Sepang; and 10-place grid penalty in Sakhir in a week's time. At the rate this is going, it won't be a surprise if the cargo container bearing his RB10 fails to turn up in Bahrain.
Anyway, his stop-and-go and grid-drop penalties were for the pit crew's failure to properly secure his car's front-left wheel during a pit stop. At least, the smiley Perth native can take comfort in the fact that he'd overtaken his teammate in Sepang's opening corners, even if sneaky Seb was able to DRS his way past Daniel a couple of laps later.
It was a positive day for the Australian GP non-finishers...
...save for Pastor Maldonado, that is. We've already talked about Lewis, so a quick rundown of the others: Sebastian split the Mercs in qualifying and crossed the line in third; Felipe Massa collected his first points with Williams; Romain Grosjean finished just outside of the top 10 in his usually ailing Lotus; Kamui Kobayashi took P13 for Caterham; and rookie Marcus Ericsson saw the checkered flag for the first time in his F1 career.
...but a difficult one for Melbourne's star performers.
We're talking about Kevin Magnussen and Nico Rosberg. The young Dane tangled with Kimi Raikkonen at the start, giving the Finn a puncture and earning himself a five-second stop-and-go penalty plus two penalty points (more on this later). He was a model of repentance post-race.
And Rosberg--why is he being singled out here when he finished P2? Well, he very nearly relinquished the runner-up spot to compatriot Vettel, and eventually finished 17sec behind Hamilton. We don't know the whole story behind that figure, but such a large intra-team gap never looks good for the trailing teammate.
It was a profitable day for rookies' career tallies...
The little ones on the grid--namely, Magnussen and Daniil Kvyat--currently enjoy a 100% points-finish record. Not that the stat matters much in their case, because Malaysia was only their second GP ever. Still, good job. We like these kids.
...and a penalty-stricken one for superlicenses.
New for 2014, the penalty-points system works this way: On-track misdemeanors are given penalty points depending on their gravity, and once a driver accumulates 12 red marks, he gets a race ban for the next event. The slates are wiped clean at the end of the season.
Valtteri Bottas holds the distinction (if you can call it that) of being the first to get penalty points this year for impeding Ricciardo during qualifying. Magnussen also opened his account with the aforementioned fatal swipe at Kimi's right-rear tire. Jules Bianchi rounded out the weekend's list of naughty boys for taking out Maldonado on the opening lap. These three now have two red marks apiece on record.
It was a solid day for Nico Hulkenberg...
Last year, we were outraged for the German when he was passed up by Lotus--then a very strong contender--in favor of Maldonado, but what a relief now that he's obviously in more competitive machinery. He gave proper chase to Ricciardo before the latter's withdrawal from action, and was only overtaken by Fernando Alonso late in the race because of worn-out tires.
...but an uncompetitive one for Fernando Alonso.
You can also replace 'uncompetitive' with 'slow.' Or 'unbalanced,' or 'uncomfortable.' Those were the sort of words the Spaniard was using in his post-race interviews. "It was a bit of a nightmare out there," he went on. His assessment: Ferrari is currently behind Red Bull in traction and Mercedes in top speed.
It was a slow day for on-track excitement...
Sure, there were some nice overtakes, but where the hell were the changeable conditions, the safety-car-requiring incidents? You know it was a lackluster show in general when some people consider Benedict Cumberbatch's surprise podium appearance a highlight of the grand prix.
...but a happening one for team-radio controversy.
Saved the juiciest bit for last, didn't we? For those who missed it, both Williams cars were attacking Jenson Button on the last few laps, with Massa ahead of Bottas. And then came the call: "Felipe, Valtteri is faster than you."
What the pit wall wanted was for Massa to move aside and give his teammate a shot at passing Button, seeing as the Finn's power unit and tires were in better condition. Massa refused to budge. The two white cars were nose to tail all the way to the checkered flag, and the Brazilian maintained afterward that "what I did was correct," and "I heard everything, but it was not clear." That last bit sounds familiar...
Williams test and support engineer Rod Nelson later said that if Bottas, upon being let through by Massa, had been unable to pass the McLaren, the team would've reversed the order again. Maybe the strategists' biggest mistake was in the way they communicated the order. Seriously. You don't rub salt on a wound, even if it's fairly old.
Photos from Mercedes AMG Petronas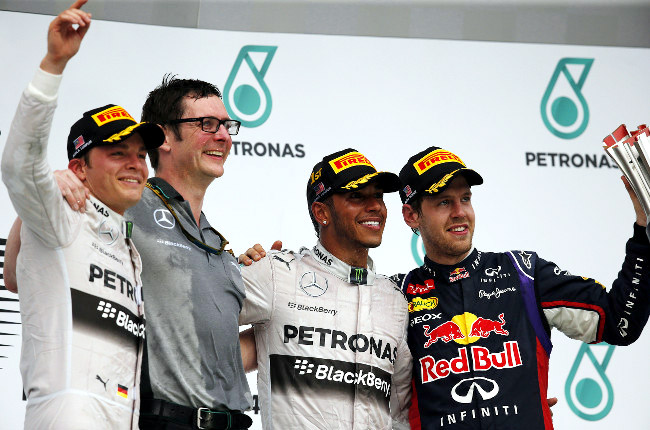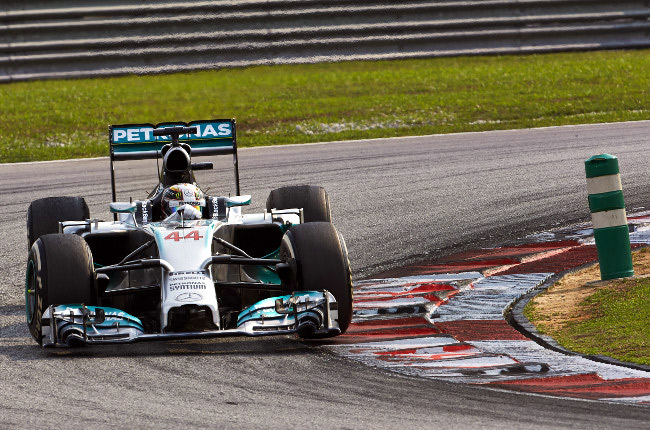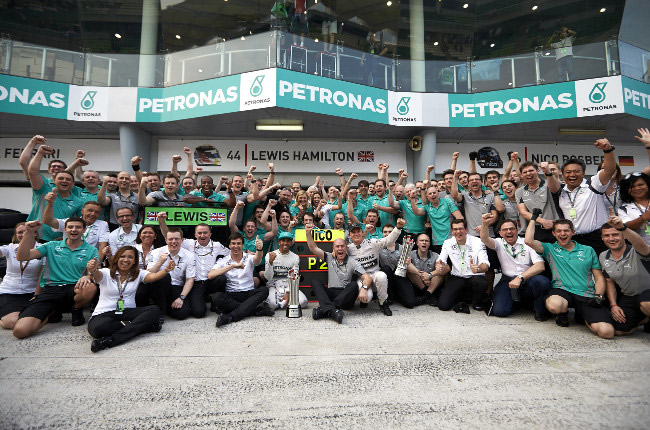 MAL
Starting grid
Race results
Pos
Driver (Team)
Qualifying
Driver (Team)
Time/Gap
1
L. Hamilton (Mercedes)
1:59.431
L. Hamilton (Mercedes)
1hr 40:25.974
2
S. Vettel (Red Bull)
1:59.486
N. Rosberg (Mercedes)
+17.313
3
N. Rosberg (Mercedes)
2:00.050
S. Vettel (Red Bull)
+24.534
4
F. Alonso (Ferrari)
2:00.175
F. Alonso (Ferrari)
+35.992
5
D. Ricciardo (Red Bull)
2:00.541
N. Hulkenberg (Force India)
+47.639
6
K. Raikkonen (Ferrari)
2:01.218
J. Button (McLaren)
+1:03.691
7
N. Hulkenberg (Force India)
2:01.712
F. Massa (Williams)
+1:05.076
8
K. Magnussen (McLaren)
2:02.213
V. Bottas (Williams)
+1:05.537
9
J. Vergne (Toro Rosso)
2:03.078
K. Magnussen (McLaren)
+1 lap
10
J. Button (McLaren)
2:04.053
D. Kvyat (Toro Rosso)
+1 lap
11
D. Kvyat (Toro Rosso)
2:02.351
R. Grosjean (Lotus)
+1 lap
12
E. Gutierrez (Sauber)
2:02.369
K. Raikkonen (Ferrari)
+1 lap
13
F. Massa (Williams)
2:02.460
K. Kobayashi (Caterham)
+1 lap
14
S. Perez (Force India)
2:02.511
M. Ericsson (Caterham)
+2 laps
15
R. Grosjean (Lotus)
2:02.885
M. Chilton (Marussia)
+2 laps
16
P. Maldonado (Lotus)
2:02.074
D. Ricciardo (Red Bull)
did not finish
17
A. Sutil (Sauber)
2:02.131
E. Gutierrez (Sauber)
did not finish
18
V. Bottas (Williams)
2:02.756
A. Sutil (Sauber)
did not finish
19
J. Bianchi (Marussia)
2:02.702
J. Vergne (Toro Rosso)
did not finish
20
K. Kobayashi (Caterham)
2:03.595
J. Bianchi (Marussia)
did not finish
21
M. Chilton (Marussia)
2:04.388
P. Maldonado (Lotus)
did not finish
22
M. Ericsson (Caterham)
2:04.407
S. Perez (Force India)
did not finish
Notes: (1) Listed qualifying laps 16-17 and 19-22 set in Q1; 11-15 and 18 in Q2; and 1-10 in Q3. Qualifying was done in wet conditions; therefore, drivers had a free choice of start tire for the race. (2) V. Bottas (Williams) originally qualified P15, but was given a three-place grid penalty for impeding D. Ricciardo (Red Bull) in Q2.
MAL
Drivers' championship
Constructors' championship
Pos
Driver
Points
Team
Points
1
N. Rosberg
43
Mercedes
68
2
L. Hamilton
25
McLaren
43
3
F. Alonso
24
Ferrari
30
4
J. Button
23
Williams
20
5
K. Magnussen
20
Force India
19
6
N. Hulkenberg
18
Red Bull
15
7
S. Vettel
15
Toro Rosso
7
8
V. Bottas
14
Sauber
0
9
K. Raikkonen
6
Lotus
0
10
F. Massa
6
Caterham
0
11
J. Vergne
4
Marussia
0
12
D. Kvyat
3
13
S. Perez
1
14
A. Sutil
0
15
R. Grosjean
0
16
E. Gutierrez
0
17
M. Chilton
0
18
K. Kobayashi
0
19
M. Ericsson
0
20
D. Ricciardo
0
21
J. Bianchi
0
22
P. Maldonado
0