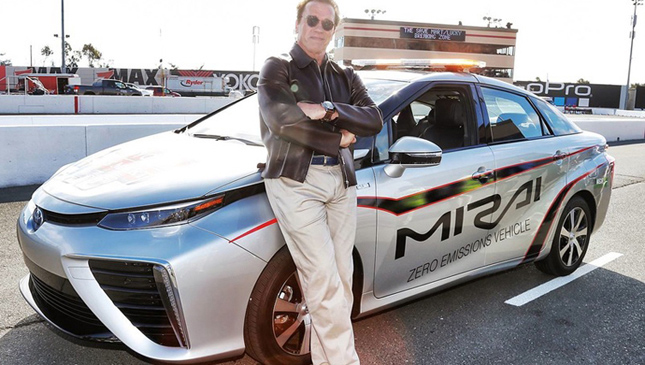 Terminator fans were in for a treat yesterday, as action star Arnold Schwarzenegger graced the 27th annual "Toyota/Save Mart 350" at the Sonoma Raceway with his presence. The former bodybuilding champ even took part in the race itself, behind the wheel of Toyota's hydrogen fuel-cell-powered Mirai, which served as the race's pace vehicle.
Schwarzenegger said that he was excited to be taking part in the event, especially behind the wheel of the Mirai. "It will be an honor to lead these fantastic athletes and champions around the raceway, and on top of it, I get to drive a car that is both powerful and green," he said prior to the race.
The former governor of California even tweeted a selfie video of his lap around the racetrack inside the Mirai, although the camera phone eventually fell off the dashboard. "The iPhone didn't handle the acceleration too well," he tweeted.
The Mirai, which is powered by both Toyota's fuel-cell and hybrid technologies, is capable of reaching speeds in excess of 175kph without producing any carbon dioxide or other pollutants.
According to Toyota, the Sonoma raceway's fuel window is 33 laps--or just over 100km. While some teams hope to save fuel to minimize their number of pit stops to two, the Mirai can last the entire distance on only a single charge. Now that's what you call fuel economy.
Toyota's Kyle Busch took first place inside his Toyota Camry, followed by Chevrolet's Kurt Busch and another Toyota driver Clint Bowyer, respectively.
Come with me... In the @NASCAR pace car. The iPhone didn't handle the acceleration too well. #TerminatorGenisys pic.twitter.com/a4OiHzvqNV

— Arnold (@Schwarzenegger) June 28, 2015
ADVERTISEMENT - CONTINUE READING BELOW ↓