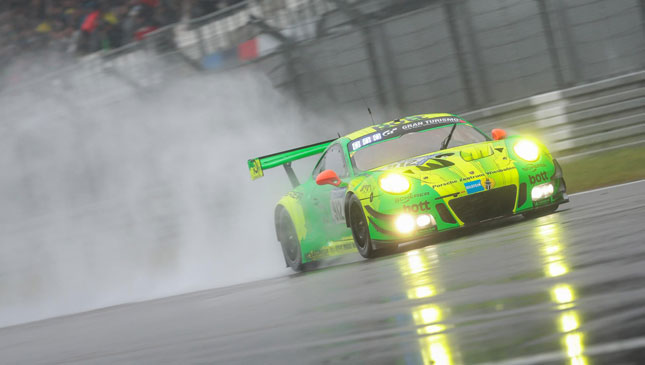 The Nurburgring 24 hours may be the greatest race in the world. We've long suspected it, and the 2018 event has done nothing to dilute our love for it. That a 24-hour long race can be decided within the final hour, its leaders separated by mere seconds at the checkered flag, is proof that endurance racing is a day-long sprint rather than a sensibly paced marathon.
Overall victory was decided by one crucial moment. After a red-flag period due to intensely heavy rain and fog, the cars restarted the race with 80 minutes to go, more bunched up than before the temporary halt.
Up front was the Black Falcon Mercedes-AMG GT3 of Adam Christodoulou, just ahead of the Manthey Racing Porsche 911 GT3 R of Frederic Makowiecki. The pair hammered round a rain-sodden Nurburgring until Christodoulou appeared to outbrake himself into turn one, with Makowiecki quick to capitalize by passing him on the outside, the Mercedes suffering a half-spin as its British-Greek driver battled to regain the lead.
In-car footage showed the AMG to be far more of a handful than the Porsche, with Christodoulou skimming the side of the barriers on one occasion as his car snapped between understeer and oversteer as he chased Makowiecki over the Nordschleife's bumps and crests. He appeared to ease off a touch, and finished 26 seconds behind the victorious Porsche, looking crestfallen as the microphones and cameras homed in once he'd taken his helmet off.
Another Brit stood on the top step of the podium, though, with Nick Tandy among the driving team of the winning 911. He's no stranger to a champagne-soaked race suit, having won the Le Mans 24 hours with Porsche, but he's described the N24 as "possibly the toughest 24-hour race in the world to win."
Aston Martin's outgoing Vantage made its final N24 appearance, and the V12 Vantage nearly did so on a huge high, just missing out on a podium position, the red-flag break scuppering a chase for third.
Fourth place is still the best finish for a naturally-aspirated V12 car, though, while it was the only 12-cylinder car on this year's grid. It's also the best ever finish by a British carmaker, leaving the new-generation Vantage racer with a lot to live up to.
There were battles up and down the field, though, and as the ginormous grid of cars streamed along the pit straight for the last time, the biggest cheers were reserved for the cars that had battled not just their rivals, but the track furniture. Namely an E36 BMW missing its front bumper and a Porsche Cayman crabbing sideways, both limping particularly heroically over the finish line.
NOTE: This article first appeared on TopGear.com. Minor edits have been made.