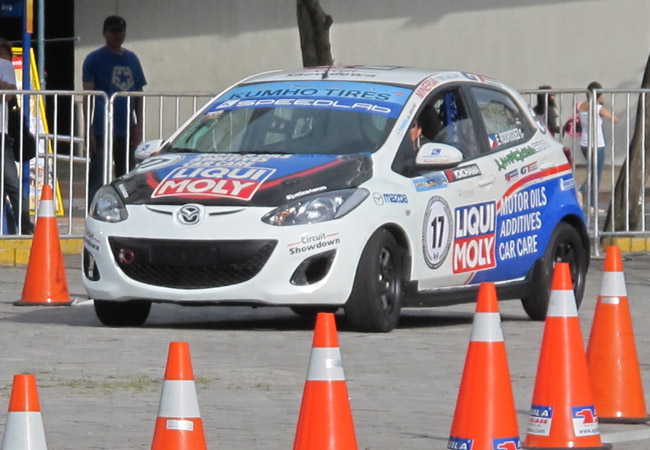 Filipino race car driver Enzo Pastor was cremated last Saturday, June 21. He was shot dead in the late evening of June 12. We at Top Gear Philippines--as well as our friends at Mazda Philippines--couldn't pay our last respects on the day of Pastor's cremation as it was also the date of our "Beat Michele Bumgarner" event at the SM Mall of Asia open grounds.
This didn't stop us from paying tribute to Pastor.
One regular competitor in the Circuit Showdown series--which Pastor founded and organized--had brought his Mazda 2 race car to our event in the morning to show his support for the Japanese auto company. The car's owner and driver, Edwin Rodriguez, parked the car by the venue's entrance and left it there while he joined a motorcade in Pastor's honor (using his other car by another Japanese brand).
The Mazda 2 had the hashtag #justice4enzo on its hood.
When we asked Mazda Philippines president and CEO Steven Tan about the liveried hatchback, he came up with the idea of having it perform a couple of hot laps on the event circuit as a tribute to Enzo Pastor. We called up Rodriguez to find out if he was up for it, and he immediately said yes.
Continue reading below ↓
Recommended Videos
Upon the return of Rodriguez from Enzo's cremation service, Tan explained to the crowd in attendance what he had in mind. He introduced Rodriguez before asking everyone to observe a minute of silence for Pastor.
And then Rodriguez brought his car to the makeshift track. He did a couple of practice laps and two hot laps. The Mazda 2--modified for the track by Speedlab--sounded and moved like a proper race car. We had a sense Rodriguez didn't go all out--just enough to give the audience an idea (both visual and aural) of the car's potential.
Nope, Rodriguez didn't topple a single cone. Enzo Pastor would have been mighty proud.
Photos by Elaine Lara