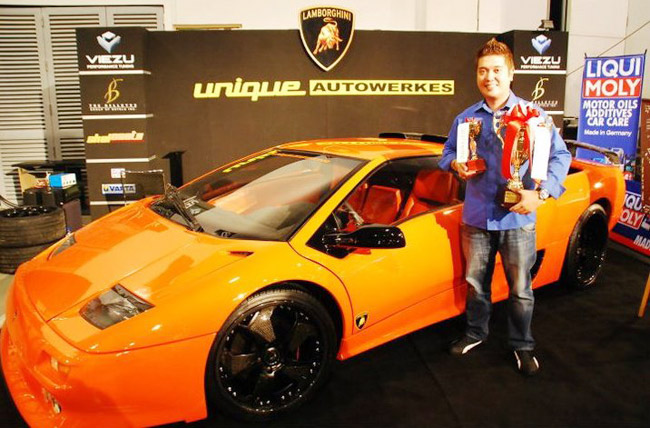 The Philippine National Police now have in custody the alleged mastermind as well as the gunman behind the killing of race car driver Enzo Pastor, who was shot dead in Quezon City late evening of June 12 this year while he was driving a truck to transport an Asian V8 Championship car to Clark International Speedway.
According to ABS-CBNNews.com, businessman Domingo de Guzman III was arrested in Muntinlupa City yesterday, August 26, while PO2 Edgar Angel was arrested last Saturday, August 23. Angel supposedly confessed that de Guzman had paid him P100,000 to kill Pastor. This development unfolded right after another hired assassin had been arrested in a totally unrelated case and later shared with the police his knowledge about the Enzo Pastor killing.
Here is the intriguing part: The report added that the police believe a love triangle between Pastor, his wife Dalia and de Guzman may have been the motive behind the race car driver's death, as Pastor's wife allegedly had an affair with de Guzman.
TopGear.com.ph received a text message this morning from a person close to Pastor, who referred to the suspect--known in the automotive community as Sandy--as "Dalia's boyfriend."
This angle had been widely, if quietly, talked about in the motorsports community since the race car driver's death, but nobody wanted to step forward in the open to present it as a potential lead in the case, for obvious reasons. Another person who was a close friend to Pastor told TopGear.com.ph that members of their circle still can't believe the involvement of de Guzman, whom they also know from industry events and races. De Guzman even participated in Circuit Showdown, the grassroots racing series founded and organized by Pastor.
"In our minds, why would someone do it if he had already gotten what he wanted?" the friend said. "We thought about it but dismissed the idea, because if there was anyone who should have wanted to exact revenge, that would have been Enzo."
There are unconfirmed reports that Pastor and de Guzman had a confrontation about the matter.
The Enzo Pastor case has gripped the nation since June, especially after President Aquino himself and Davao City Mayor Rodrigo Duterte openly expressed their wish to solve the case. Duterte even offered a reward of P1 million to anyone who could help find the killers.
The Pastor family, meanwhile, put up a dedicated website where people could send them information about the case.
ADVERTISEMENT - CONTINUE READING BELOW
This development will surely come as a shock to de Guzman's friends and colleagues in the automotive community. Let's hope for a speedy and fair trial.
Photo from Sandy de Guzman's Facebook page