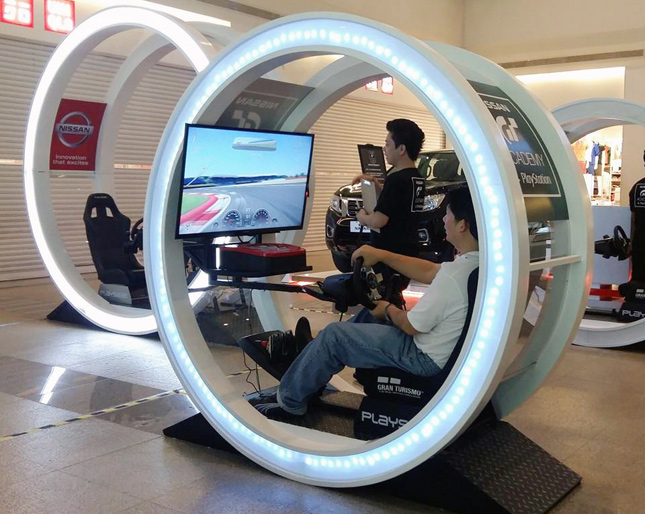 As we announced earlier this month, Nissan Philippines would officially kick off this weekend the local leg of the Nissan GT Academy with the first three dates for the qualifiers. (The rest of the dates are listed here.) If you wish to join, the mechanics are pretty simple: Just show up and register at any of the qualifier venues, and then be sure to kick some ass on the simulator.
The top 20 performers during these qualifiers (or live events) will move on to the national finals, in which they will be trimmed down to just six contestants. These top six Filipino players will then proceed to the Nissan GT Academy's race camp in Silverstone in the United Kingdom to compete with other participants from other Asian countries. How cool is that?
Anyway, Nissan Philippines has posted the combined results of the first two days of the qualifiers, held last Friday (April 10) and yesterday (April 11) at the Glorietta 5 activity center, and we'd like to share them (names and best lap times) with you.
Top 20 performers after 2 days (April 10-11)
1. Terence Lallave (1:03.096)
2. Paolo Vittorio Alcance (1:03.330)
3. Cameron Jordan Padillo (1:03.512)
4. Francisco Adriano (1:03.616)
5. Daryl Brady (1:03.654)
6. James Andrew Perez (1:03.917)
7.Rodolfo Faustino (1:04.161)
8. Julian Jaco Reyes (1:04.251)
9. Angelo Guillermo (1:04.316)
10. Joel Erickson Urbi (1:04.409)
11. Gav Quintos (1:04.334)
12. Mervin John Mallen (1:04.550)
13. Eduardo Suiza III (1:04.583)
14. Simon Isaac Suck (1:04.664)
15. Timothy Robert Melendrez (1:04.700)
16. Israel Magante (1:04.807)
17. Ramoncito De Luna (1:04.954)
18. Rio Halili (1:04.981)
19. Patrick Angelo Catanyag (1:04.984)
20. Kim Jiger Chong (1:04.999)
Continue reading below ↓
Recommended Videos
We see several familiar names on the list, and they are known enthusiasts of racing simulation games. At least a couple of them are even actively helping out at the Tuason Racing School. As you read this, the third day of qualifying is just about to wrap up, also at the Glorietta 5 activity center.
If you think you have a shot at beating these guys, check out the next qualifier dates here.
Photo from Nissan Philippines' Facebook page