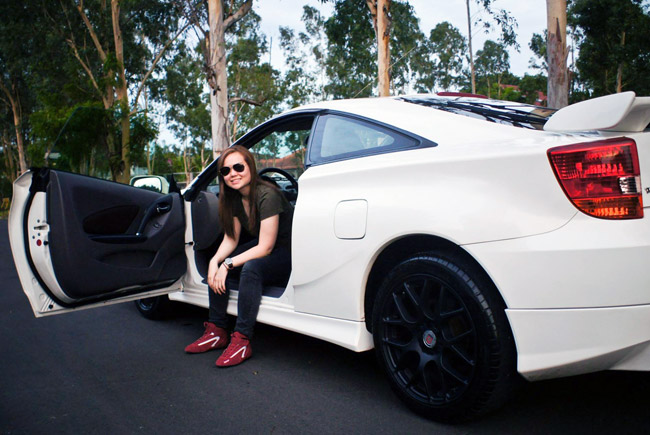 Tomorrow, June 21, a field of 30 drivers will try to knock out each other for the ultimate chance to race against Michele Bumgarner in "Head To Head: Can You Beat Michele Bumgarner in an All-New Mazda 3 Skyactiv?" The venue is the SM Mall of Asia grounds (Block 12 parking area), starting at 8am.
The event is co-presented by Mazda Philippines and Top Gear Philippines, and aims to satisfy the curiosity of TGP editor-in-chief Vernon B. Sarne as to whether a female racing driver can be beaten behind the wheel by a regular, non-professional male driver.
Now, it turns out the 30 drivers hoping to advance to the final round against Michele aren't all men. One of them is very much a she, and her name is Rachel Sarmiento. Yep, that's her in these photos. She's 22 years old and she qualified 13th on the virtual Laguna Seca track on Gran Turismo 6. If she manages to be the last driver standing, it will be an all-girl best of-five final between Rachel and Michele. This won't answer our EIC's question, but we're not complaining. Who are we to say no to watching two cute women duking it out on mirror tracks?
Continue reading below ↓
Recommended Videos
And just so you'll have a better idea about who Rachel is, we asked her a few questions:
How old were you when you learned how to drive?
I learned to drive when I was about 17 years old.
Where did you get your passion for cars and driving?
The passion originally came from my dad and my older brother who were quite interested in cars, so it wasn't long before I started getting interested, too. Of course, the racing games and the television shows helped. And my boyfriend is into cars and racing as well.
What car (or cars) do you drive?
I drive a 2001 Toyota Celica GTS and a Suzuki Jimny.
What is your dream car?
An RE Amemiya RX-7 FD.
Who is your favorite race car driver?
The late Ayrton Senna.
Do you think you can beat Michele Bumgarner?
It's a long shot, but I'd definitely love to try.
Who are better drivers: men or women?
It really depends on who's behind the wheel. The skill depends on the driver regardless of gender.
There you have it, guys. A true car girl. Shall we all root for Rachel tomorrow so we can have that full-throttle catfight? See you there!