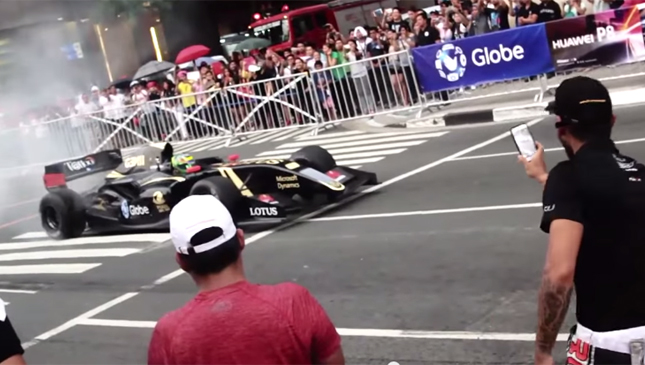 There's nothing like the smell of burning rubber and the sight of a race car driver (or, for the ladies, Marlon Stockinger) to get your blood pumping on an otherwise uneventful weekend afternoon. Which is pretty much what Globe Telecom's "Slipstream 2.0" event offered on June 27, with Stockinger's showcase of speed and driving skill taking center stage.
The Filipino F1 hopeful raced around the closed streets of Bonifacio Global City, to the delight of motoring fans and onlookers alike. Slipstream 2.0 also featured a car parade, motorcycle stunts, and even Lotus sports cars. Even Marlon's Lotus-Gravity Charouz Renault 3.5 was on exhibit at the event. Other highlights of the event included Marlon taking the wheel of a jeepney, and a meet-and-greet session with fans toward the end of the day.
Though racing has a long way to go before Filipinos fully embrace the sport as a popular pastime, it's always nice to see a fellow Pinoy making an effort to bring the sport at the forefront in his home country. If Slipstream 2.0 was any indication, the door is certainly open for car racing to make its presence felt in the Philippines.
Did you miss this event? Check out our video below.
If you're viewing this on a mobile device and can't see the video, please click here.