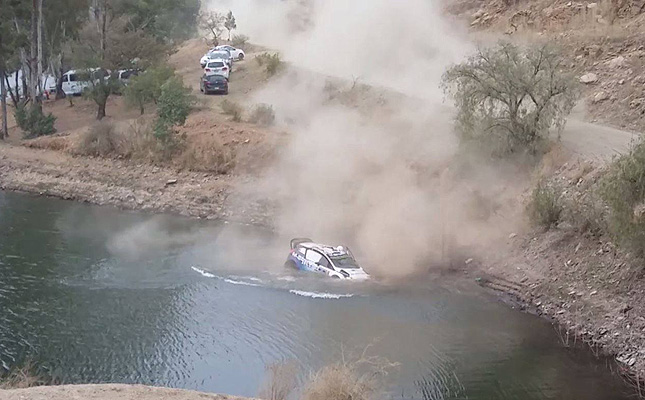 During the third stage of the just-concluded Rally Mexico, M-Sport World Rally Team driver Ott Tanak rolled his Ford Fiesta RS WRC car into a lake where it sank within seconds. Fortunately, Tanak and his co-driver Raigo Molder had gotten out of the car before it went five meters underwater. Molder supposedly was even able to retrieve his pacenotes before the Fiesta rally car disappeared from view.
Miraculously, though, despite being underwater for nearly 10 hours, the Fiesta rally car was repaired in three hours. Besides draining the engine of water and repairing the engine block, M-Sport's mechanics also changed the gearbox, the fuel tank, the turbocharger, the cooling package, the boost control valves, the electronic components, the brake components, the front and rear suspension components, and a number of cosmetic items.
As a fitting end to the story, Tanak and Molder were able to drive their now-revived Fiesta RS rally car onto the parc fermé at the end of the stage. The duo finished the Rally Mexico in 22nd place, nearly two hours behind race winners Sebastien Ogier and Julien Ingrassia of Volkswagen Motorsport.
Check out the in-car and spectator videos of the crash below.
Photo from WRC's Facebook page
If you're viewing this on a mobile device and can't see the video, please click here.
<>
Recommended Videos