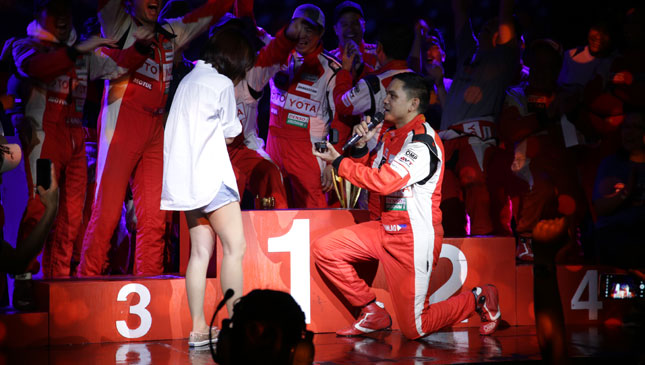 Car racing, like love, is an endeavor filled with lots of thrills and pulse-quickening moments. It's got its share of dangers and swerves too, and you can lose your footing in a hurry if you're not careful. Still, all the hard work and commitment you put in is worth it once you cross the finish line and reaffirm your bond with the sport/person you love so dearly.
At the final leg of this year's Toyota Vios Cup, driver Pauland Dumlao crossed the finish line in more ways than one. At the awarding ceremony after the races, the hosts announced that Dumlao would be receiving the newly-concocted "Man of the Year" award. There wasn't much explanation given about what the award meant or what the criteria behind it was, but the hosts insisted that it was an important honor. So important, in fact, that Dumlao's parents and girlfriend had to join him onstage to see him receive the award.
It turns out, "Man of the Year" was code for "distract the girlfriend and set the mood." As Dumlao accepted the trophy, the lights dimmed, his parents stepped aside, and the music faded. Soon it was just him and his girlfriend standing under the spotlight. The crowd and Dumlao's fellow racers went crazy as it became clear what was about to happen. The race car driver got down on one knee, pulled out a small box, and asked her a simple question. The answer was a heartfelt yes.
Cue the crowd's celebration and streamers galore.
It was a fitting end to the Vios Cup season, and a fitting beginning for the bride- and groom-to-be. Congratulations to the future Mr. and Mrs. Dumlao. May your life together be filled with all the thrills and pulse-quickening moments that love and car racing have to offer.