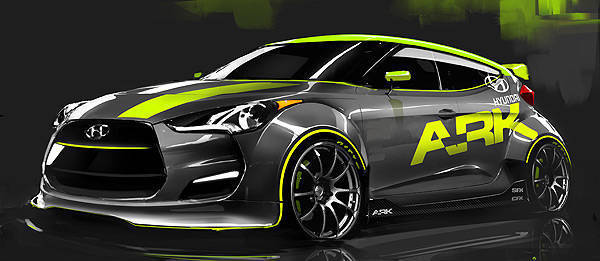 It looks like Hyundai is taking a page off of what it did at the 2010 Specialty Equipment Market Association (SEMA) Show in Las Vegas as it has teamed up with an aftermarket specialist to trick out the Veloster.
The Korean carmaker tapped ARK Performance to modify a Veloster and turn it from a road-going compact three-door sports coupe to a sleek and sporty rally car.
"The Hyundai Veloster is an ideal car for enthusiasts with its distinctive design and dynamic architecture," said Ted Lee, owner of ARK Performance Inc. "At SEMA, our ARK Performance Veloster will bridge the realm between an affordable sports car and an extreme motor sports vehicle. From the first Tiburon, to the Genesis Coupe, and now with the Veloster, ARK Performance continues to uphold the torch as the pioneer of aftermarket performance manufacturing for Hyundai."
For the rally-ready Veloster, ARK Performance gave it--among many other things--a custom twin-scroll turbocharger, bumping its horsepower up to 210, and a bright green and flat gray paint scheme "to give enthusiasts a glimpse at Veloster's potential."
ADVERTISEMENT - CONTINUE READING BELOW ↓
ARK Performance's Veloster, along with other modified Velosters and Genesis Coupes from other aftermarket tuners, will be on display in the Hyundai booth at the SEMA Show which will be held from November 1 to 4.
At last year's SEMA Show, ARK Performance created the supercharger-equipped Track Time Attack Genesis Coupe 3.8L for Hyundai.
ADVERTISEMENT - CONTINUE READING BELOW ↓
Recommended Videos