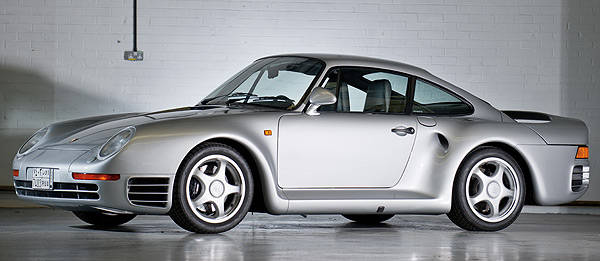 A rare Porsche 959, one of only 284 units to be built by the German carmaker, recently sold for £308,000 (P20.318 million) in an auction held by RM Auctions.
This beauty is Porsche's very first supercar. First unveiled at the 1983 Frankfurt Auto Show, the 959 was supposed to be Porsche's entry into the Fédération Internationale de l'Automobile's (FIA) Group B rally series. But with the series' demise in 1986, Porsche was left with 284 units since the series required at least 200 examples for homologation purposes.
The 959 was produced from 1987 to 1992, yet 20 years later after it ceased to be made, the technology systems behind it are still so advanced that some have yet to gain widespread use on production cars, like the aluminum pistons and the titanium connecting rods. Its Porsche-Steuer-Kupplung all-wheel drive system also became the basis for Porsche's subsequent all-wheel-drive production cars.
According to RM Auctions, this particular car was hardly used by the first Saudi Arabia-based owner. Bought by the second owner in 1996, the car was reportedly transported to Geneva where it was again stored for years. When it became evident that years of non-usage had taken its toll on the car, plans were made to revive it but none pushed through. It was only while participating in a 2009 Gumball 3000 Rally in the United States that the second owner found "a 959 specialist with the knowledge and access to factory parts needed to repair the car properly."
Continue reading below ↓
Recommended Videos
The unit was then immediately flown to the US "where all its systems were completely restored at great expense." Upon its return to Europe, the 959 was then delivered to Groupe Segond, Porsche's Monaco dealership, which repainted the car in its original silver color that is complementary to its original and elegant tri-tone silver-and-gray leather interior.
[gallery]1302[gallery]