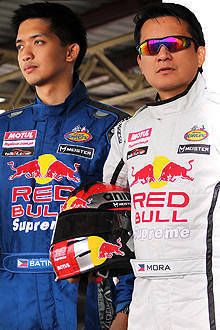 As the 2012 Philippine Superkarting Series takes its mid-season break to make way for the Philippine leg of the Asian Karting Championship on July 28 and 29 at the Carmona Race Track, the Red Bull Supreme Racing team bannered by drivers Nike Mora and Don Batino is now leading the championship.
The first three races saw Mora practically dominating the Expert and Veteran classes with two first-place finishes in the former and three first-place spots in the latter. Mora missed out on what could have been his fourth straight victory in the Veteran class as engine trouble took him out of the final race.
Batino has also had a string of first-place victories, having finished on the top step of the podium in the Expert class in the second and fourth rounds. For the races he didn't win, he still found himself on the podium by finishing in second place in the first round and third place in the third round.
Barring any major setback in the last three rounds of the series, both the team and the drivers are on track to finish the season as champions.
Continue reading below ↓
Recommended Videos