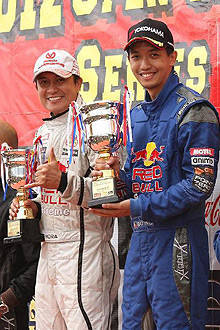 Motor racing, particularly karting, is alive and well in the country. Despite not receiving publicity from mainstream media, a national karting series actually continues to exist, and seems to be doing just fine--as a matter of fact concluding another successful season.
The Red Bull Supreme Racing team has topped the 2012 Philippine National Super Kart Series with driver Nike Mora capturing both the Veteran and Expert classes while Don Batino took second place overall in the Expert class.
The team's domination of the series was absolute as it won all eight of the Expert-class races, with the victories shared between Mora and Batino. For the Veteran class, Mora bagged six of the eight races. Making the season-ending race even sweeter is Batino being recognized as the 'SQ Karter of the Year.'
Red Bull Supreme Racing team's victory in both the Expert and Veteran classes reportedly marks a milestone for the Philippine National Super Kart Series as this is the first time a single team has won the season championship for both classes.
Congratulations to the winners. Here's hoping karting--and other forms of auto racing, for that matter--enjoys more media coverage to encourage more participants, spectators and sponsors to come in.
Update: Season-ending standings of both Nike Mora and Don Batino have been updated. The Red Bull Supreme Racing team was supported throughout the 2012 season by Red Bull Supreme, Motul, Meister Watches, Point Zero Project, Media Magic, AMI Events and TopGear.com.ph.
Continue reading below ↓
Recommended Videos
[gallery]1273[gallery]