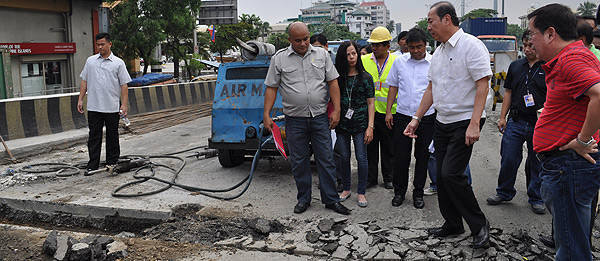 The ongoing repair and rehabilitation of the Osmeña Flyover will be completed as scheduled, which, according to the Department of Public Works and Highways, will be on or before August 28, 2011.
Under contract with Tokwing Construction, the project started on May 6, 2011, and has a duration period of 120 calendar days, although both the department and the contractor expressed their desire to finish the project within 90 calendar days.
Work on the project includes the replacement of the existing uneven asphalt pavement to provide a smooth riding surface; the strengthening of some bridge girders with the application of fiber reinforcement polymer and injection of structural epoxy in portions with spalled concrete; the improvement of the parapet wall railings, median island and lighting system; and the provision of new drainage facilities.
Also included in the contract is a study of the bridge's as-built condition "so that its actual load capacity can be determined since the previous construction records of the bridge are not available anymore," the DPWH revealed.
Based on the initial results of the study, very thick reinforced asphalt pavement will have to be used on some portions of the bridge for it to attain the desired curved finish of the pavement, which will necessitate the strengthening of some girders. Because of this development, the DPWH expects the project's cost to increase due to the additional works required. The department added that strengthening works on the girders may start next week, followed by the laying of the new asphalt pavement on the southbound side.
ADVERTISEMENT - CONTINUE READING BELOW ↓
As soon as the asphalt pavement is completed, traffic on the southbound lane can be immediately allowed, after which work on the northbound side will commence. Expected to be completed in two weeks' time, this portion can then be opened to traffic on the first or second week of August.
Built in the 1970s, the rehabilitation of the flyover--which is located at the corner of Osmeña Highway and Sen. Gil Puyat Avenue in Makati City--is in line with DPWH Secretary Rogelio Singson's program of upgrading the quality and safety of the Philippines' national roads and bridges.
Photo from DPWH