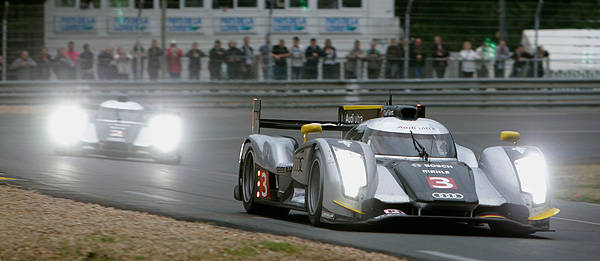 The 24 Hours of Le Mans arguably ranks right up there with the Monaco Grand Prix, the Rallye Monte Carlo, and the Indianapolis 500 as one of the most important motoring events staged annually.
Since 2000, Audi has won 10 of the past 12 stagings of the race, with the German carmaker skipping the 2003 event (which was won by Bentley). The 2009 edition was topped by Peugeot.
Last year's race, however, proved to be a close one for Audi as it lost two of its three R18 TDI cars in dramatic crashes in the first eight hours of the race. That meant the only way Audi could win the race was for its lone surviving car to remain trouble-free for the next 16 hours--an especially hard feat since the three Peugot 908 cars trailing it could use their 65-liter fuel tanks a lap longer than the Audi.
The final lap of the race was reportedly the first to be run at full speed since the 1969 race due to the small gap between the Audi and the leading Peugeot entry. When both cars crossed the finish line, only a 13-second gap separated them, making it the fourth-closest finish in the history of Le Mans.
The entire documentary is entitled Truth in 24 II: Every Second Counts and runs for nearly an hour and a half. If you don't have the time to watch it, however, we suggest you skip forward to the 51:42 mark to see one of the gutsiest overtaking maneuvers ever as executed by Benoit Treluyer.
ADVERTISEMENT - CONTINUE READING BELOW ↓
Incidentally, the documentary was voiced by Jason Statham, who drove around in an Audi A8 in two of the three movies of the Transporter film franchise.
If you're viewing this on a mobile device and can't see the video, please click here.
ADVERTISEMENT - CONTINUE READING BELOW ↓
Recommended Videos