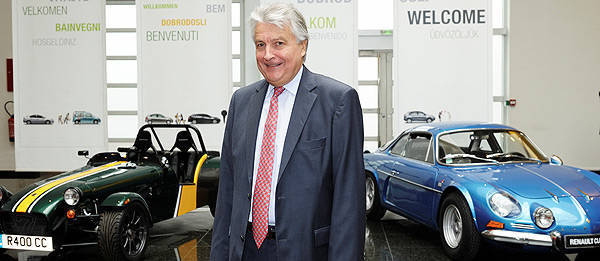 Renault has announced that it is partnering with the Caterham Group to produce vehicles that will not only carry the French carmaker's storied Alpine sub-brand name but will also be built at its historic Dieppe plant in France.
The Renault/Caterham partnership will see the Caterham Group holding a 50-percent stake in the Automobiles Alpine Renault company, which is currently owned 100 percent by Renault. The Société des Automobiles Alpine Caterham, which will be the product of the Renault/Caterham partnership, will then be created in January 2013 and helmed by Bernard Ollivier, who has served in various positions with Renault since 1977.
"I'm very proud of the trust placed in me by both shareholders," said Ollivier who will serve as Société des Automobiles Alpine Caterham's chief executive. "The road map for each car is clear and simple: respect the DNA of both Alpine and Caterham. With the passion and expertise of the staff dedicated to this project, we are sure of meeting this aim."
Both Renault and Caterham will each bring their respective technical skills to the development of Alpine Caterham's future products through a newly created joint engineering department. In the spirit of a true partnership, both Renault and Caterham will split the required engineering and industrial investments to create its products on a 50-50 basis.
The vehicles will be built at the original Alpine plant in Dieppe, France, which is currently being used to manufacture vehicles developed by Renault Sport Technologies. The Dieppe plant's core business of assembling sports vehicles and race cars, and the sale of spare parts for motorsports vehicles are just some of the characteristics that make it the perfect place to become Alpine Caterham's production facility.
The first Alpine Caterham cars are expected to be launched within the next three to four years.