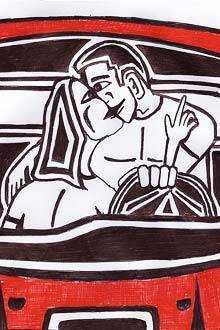 You need not be a rocket scientist to know that when driving, other activities that take your focus off the road put you, your passengers and the people around you at risk. But many people would dismiss this as myth unless data come with hard numbers. Well, here you go...
A survey commissioned by hands-free communication device maker Jabra in Europe, North America and Asia showed as much as
72 percent of the respondents admit to eating regularly while driving
.
More people apparently engage in acts of intimacy compared with those who are into what is thought to be the more common driving faux pas: texting.
Continue reading below ↓
Recommended Videos
Survey results showed 29 percent of the respondents have kissed another person while driving, and 15 percent said they have had sex or have done sexual acts while driving.
Only 28 percent admitted to sending messages while behind the wheel, and 25 percent said they have changed clothes or styled their hair while driving.
Other activities motorists do while driving include applying makeup (13 percent), reading newspapers (ten percent) and playing video games (five percent).
"It is truly unbelievable what people are doing while driving," Jonas Forsberg, general manager of Jabra developer GN Netcom, Inc. in North America, was quoted saying in EINNews.com.

Forsberg said his company is "dedicated" to boost efforts in developing more gadgets that will allow motorists to keep both hands on the wheel while talking on the mobile phone or texting.
"We hope that people will soon understand the implications of these bad behaviors and will change their own behavior accordingly," he added.
We've decided to run a similar but informal poll on TopGear.com.ph. Click this link to take the survey!