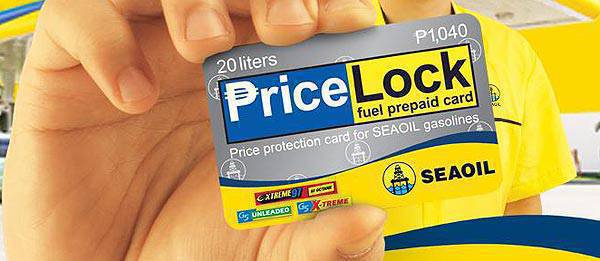 Seaoil is bringing back its prepaid fuel card to protect consumers from rising petroleum product prices.
From March 7 to 13, customers can purchase Seaoil's Price Lock prepaid fuel card for P1,040 at the Seaoil Corporate Office located on the 7th floor of Raffles Corporate Center in Ortigas Center, Pasig City. The card may be used to purchase 20 liters of gasoline at any participating Seaoil stations at a fixed price of P52 per liter within the card's validity period of up to May 15, 2011.
In case of an oil price rollback that could pull the price of gasoline to below P52 per liter within the card's validity period, Seaoil will use the P1,040 value on the card to gas up the vehicle based on the current pump price.
Seaoil's Price Lock prepaid fuel card can only be used once. Each card must be surrendered to the station attendant upon gassing up. The station attendant is the only one authorized to scratch the car's silver coating.
Seaoil first launched its prepaid fuel card in 2008 with each card at a value of P1,070, locking the price of gasoline products at P53.50 per liter from June 10 to August 16.
Continue reading below ↓
Recommended Videos
Update: Seaoil has just informed TopGear.com.ph about the extension of the Price Lock fuel card's selling period. You may also get the card in more locations.
1. Seaoil Corporate Office, 7F Raffles Corporate Center, F. Ortigas Jr. Road, Ortigas Center, Pasig from March 9 to 16, 9am to 6pm
2. Teriyaki Boy, Greenhills Promenade branch, San Juan from March 12 to 18, 11am to 6pm
3. Club Phi, Metrowalk, Pasig from March 12 to 18, 6pm to 10pm
For inquiries, you may call Seaoil at +632 3105110 or +63917 5222737. For more information, visit http://www.seaoil.com.ph.
(Update posted at 3:30pm on March 14)