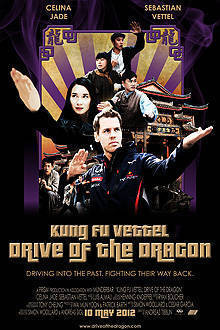 In April, we jokingly mentioned that one reason Red Bull Formula 1 driver and defending world champion Sebastian Vettel isn't as dominant this season as he was in the past two, was that he was too busy making a martial arts short film courtesy of one of his team's major sponsors, Infiniti. If that were true, perhaps he'd now go back to his winning ways as the over-five-minute-long short entitled Kung Fu Vettel: Drive of the Dragon has just been released.
Co-starring Hong Kong-based actress Celina Jade, the film has both Jade and Vettel riding in an Infiniti FX, with Jade giving the world champion a tour of an old Chinese town whey they stumble upon a hapless man being ganged up on, four-to-one.
We'll leave it at that so that you can watch Vettel do some old-fashioned kung fu moves. Maybe shooting the film did the German driver a world of good since it gave him a much-needed distraction from his all-consuming sport, which requires laser-like focus. And it may have provided him an outlet with which to vent out his frustration on the track.
ADVERTISEMENT - CONTINUE READING BELOW ↓
Check out the video below and tell us if Vettel has a future in Hollywood.
If you're viewing this on a mobile device and can't see the video, please click here.
ADVERTISEMENT - CONTINUE READING BELOW ↓
Recommended Videos