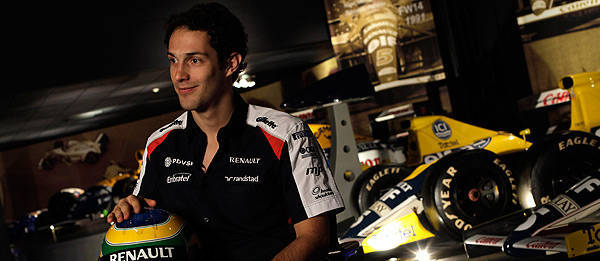 It seems Bruno Senna is indeed following in the footsteps of his legendary uncle Ayrton by joining Williams F1 for the 2012 Formula 1 season. In 2011, the younger Senna drove for Lotus Renault, the team where the older Senna won his very first grand prix victory in the 1985 Portuguese Grand Prix.
"I feel very privileged that Williams has selected me as one of their race drivers. The team has a great heritage and I hope I can help write a good chapter in their history," said Senna. "It will be very interesting to drive for a team that my uncle has driven for, particularly as quite a few of the people here actually worked with Ayrton. Hopefully we can bring back some memories and create some great new ones too."
Ayrton reportedly once said that if people thought he was fast, Bruno was even faster. If so, then Williams F1 team principal Frank Williams may be right when he said that the younger Senna's two seasons in Formula 1--with Hispania in 2010 and Lotus Renault in 2011--have not given him an ideal opportunity to deliver consistently, which means it was important to get him up to speed on what the team was doing for the 2012 season.
Continue reading below ↓
Recommended Videos
"It was essential that we spent as much time with him as possible to understand and evaluate him as a driver. We have done this both on track and in our simulator and he has proven quick, technically insightful and above all capable of learning and applying his learning quickly and consistently. Now we are looking forward to seeing that talent in our race car," Williams added.
With Williams F1 now using Renault engines for the 2012 season, Senna is counting on his experience with it at his former team to become significant to the continuing development of the Williams FW34 race car.
"After a few races with the Renault engine in 2011, I've learnt a great deal about it. It is a very good unit with good drivability, which is another positive step forward for the team," shared Senna. "I'm sure we can develop the car even further with the Renault engine and it will be interesting for me to be able to give the team feedback applying my previous experiences."
We can only hope that Bruno's time with the team may be longer and more fruitful than that of his uncle since it was in the Williams FW16 that Ayrton met his untimely demise in the 1994 San Marino Grand Prix.
If you're viewing this on a mobile device and can't see the video, please click here.