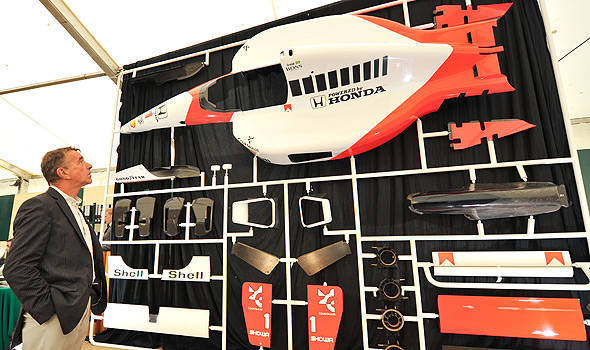 The late, great Ayrton Senna's McLaren MP4/6, his last car as a Formula 1 world champion in 1991, has been turned into a sculpture and it will be auctioned off by international car auctioneer Coys at the 39th Oldtimer Grand Prix in Nurburgring, Germany, on August 13.
Artist Jay Burridge was then a second year sculpture student at the Central Saint Martins College of Art and Design in London, England, in 1992 when his teacher gave him a letter from McLaren International as the famed motorsport company was offering a student the opportunity to create a sculpture using one of its cars.
Burridge then met with McLaren chairman Ron Dennis and was shown the MP4/6 as it was being dismantled, prompting the artist to comment that it was like taking apart the world's most expensive model kit and giving him the idea for the sculpture. Burridge then drew up the plans for the sculpture and submitted them to McLaren. The simplicity of the concept and how it complemented the car's construction appealed to McLaren which then gave Burridge the go-signal for his project.
Upon its completion, Dennis agreed for the sculpture to be displayed in the reception area of then-sponsor Marlboro's advertising agency in London. The sculpture was then put into storage following Senna's departure from McLaren. After Senna's death in May 1994, Dennis asked Burridge if the sculpture can remain in storage for two more years, so out of respect, Burridge agreed and did not use the famed Brazilian's death to profit from the sculpture.
Continue reading below ↓
Recommended Videos
In June 2004, though, the sculpture appeared as a central part of the 'Remembering Ayrton Senna' tribute exhibition at that year's Goodwood Festival of Speed, with McLaren even offering to clean and restore the body work to look its best for the occasion.
The car still bears the signs of Senna's legacy as can be seen by the few nicks and scratches on the bodywork. The only change done to the car was to update the sponsor's decals from the original Marlboro logo to the strobe decals as it was displayed in public where cigarette advertisements are illegal. The decals are original items from the 1991 season, though, and used when the Marlboro logo was not permitted, making it authentically fitting for the car.
"It really is a fantastic sculpture that would not be out of place in a design or motor museum or on the wall of a corporate office," said Coys' managing director, Chris Routledge. "We believe that it will sell for between £30,000 and £50,000 (P2.068 and P3.448 million)."
Photo by Adam Jacob via Newspress.co.uk