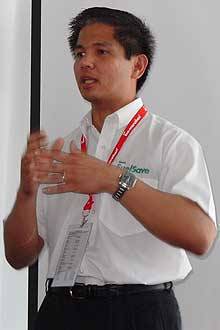 Sepang, Malaysia--Oil giant Shell is firming up plans to bring FuelSave, its newest product designed to help consumers and their vehicles be more fuel efficient, to the Philippine market.
FuelSave contains an additive that allows a motorist to save up to one liter of fuel for every full tank, said Shell vice president for Retail East Cesar Romero (in photo). This claim is based on studies made by Shell and by independent laboratories.
FuelSave was launched in the global market last year. In Asia, it is currently available only in Hong Kong, Malaysia and Singapore.
"There are roll-out plans in the rest of the countries in Asia," Romero told reporters covering the ongoing Shell Eco-marathon Asia. "It's coming very soon to the Philippines."
Continue reading below ↓
Recommended Videos
FuelSave's efficiency potential comes from the advance additive called the "efficiency improver molecule," Shell fuel technology manager Eric Holthusen said.
"It is formulated to act as a surface coating to support smoother gliding (in the engine)," Holthusen said. "Less friction means less energy loss."
FuelSave is also designed to keep engines clean.
Despite potential savings consumers are likely going to get by using FuelSave, Romero assured he product will be affordable to Filipino consumers.
"The pricing policy is that it should not be more expensive than the main grade fuel," he said.