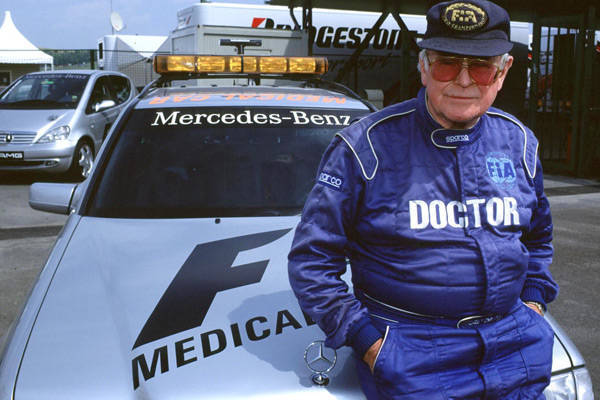 Sid Watkins, an acclaimed neurosurgeon who served as president of the Fédération Internationale de l'Automobile's (FIA) Institute for Motor Safety and as Formula 1 safety and medical delegate, passed away on September 12, 2012, at the age of 84.
Watkins became F1's official race doctor during the 1978 season at the Swedish Grand Prix. His influence in improving the safety standards of the racing series was felt six races later after driver Ronnie Peterson's crash at the Italian Grand Prix. The 18-minute delay of the ambulance's arrival to the crash site prompted Watkins to demand that the series should have better safety equipment, an anesthetist, a medical car, and a medical helicopter.
In his role, Watkins was the first doctor to arrive at the scene of numerous crashes. Some of the drivers he attended to as race doctor were Gilles Villeneuve, Nelson Piquet, Rubens Barrichello, Roland Ratzenberger, Mika Hakkinen and Ayrton Senna.
In the 2010 documentary Senna, Watkins recalled how, following the two crashes at the 1994 San Marino Grand Prix weekend that saw Barrichello injured and Ratzenberger die, he advised a visibly shaken Senna that they both quit the sport and go fishing instead. In true Senna fashion, the legendary driver told Watkins that he couldn't quit. A day later, at the race itself, Watkins was treating Senna following his fatal crash. According to Watkins, when Senna sighed and his body relaxed after they extracted him from the car, "I thought that his spirit had departed."
Continue reading below ↓
Recommended Videos
"This is a truly sad day for the FIA family and the entire motorsports community," said FIA president Jean Todt. "Sid was loved and respected in equal measure by all those who knew and worked with him. We will always be grateful for the safety legacy that he has left our sport."
Photo from www.formula1onlive.com