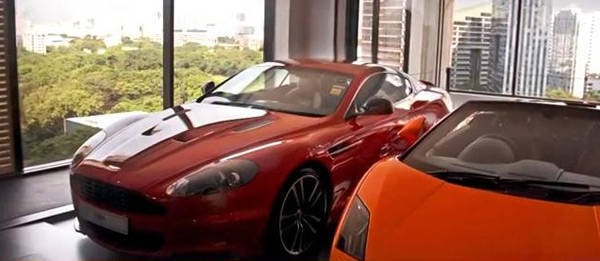 KOP Properties, a property developer in Singapore, has come up with the ASEAN region's first and the world's tallest "en suite elevated car porch residence."
Within walking distance of Orchard Road, KOP Properties' 30-story, 56-unit Hamilton Scotts residential condominium has a special elevator that delivers the residents' car right up to their apartment's living room.
The system works by having the residents drive their car down into the underground parking garage and onto a turntable system. The residents then scan their thumbprints with a biometric system that identifies what apartment unit to bring the car to and then delivers the car to the unit with the use of an elevator system.
To retrieve the car, residents have to go down to the underground parking garage and, with the same biometric system, have the car brought down from their apartment unit and onto the turntable system before they can drive off.
The price of the approximately 250sqm unit in Hamilton Scotts? According to KOP Properties chief executive Leny Suparman, it's around $7.5 million (P317,460,000).
"These buyers are very discerning, and they have seen a lot," said Suparman. "They are well-exposed in the world, so they are looking for something that is unique and different."
Continue reading below ↓
Recommended Videos
Could we see one of the Philippines' property developers doing a similar thing soon?
If you're viewing this on a mobile device and can't see the video, please click here.