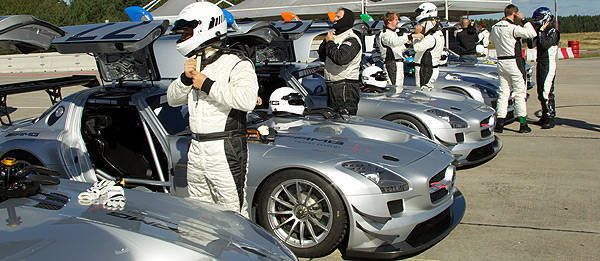 The Mercedes-Benz SLS AMG GT3 has joined the AMG Driving Academy fleet, giving participants the opportunity to experience motor racing firsthand while benefiting from what is an unprecedented high standard of safety.
Used in the Fédération Internationale de l'Automobile-sanctioned GT3 racing series, the SLS AMG GT3 is the main ingredient in the AMG Driving Academy's module-based Masters Program that's based on the car itself.
The program consists of four stages: experience, warm-up, training and competition.
In the three-hour experience stage, participants start off with the roadgoing version of the SLS AMG to benefit from some driving guidance. After familiarizing themselves with the car and followed by a seated "rehearsal", they then get behind the wheel of the SLS AMG GT3 and follow a lead car around the track. To cap the stage, participants ride shotgun in an SLS AMG GT3 that's driven by an experienced professional racing driver for a few quick laps around the circuit.
ADVERTISEMENT - CONTINUE READING BELOW ↓
In the warm-up stage, the participants are introduced to the technology and controls behind the SLS AMG GT3. After a fitness check, the participants are able to familiarize themselves fully with the car during the subsequent training sessions, covers such aspects as acceleration, braking, changing gear, overtaking and a variety of other handling exercises. As a bonus, participants who are residents in Germany also have the chance to acquire a national Deutscher Motor Sport Bund e. V. (DMSB) driver's license. DMSB is Germany's governing body for motorsports.
During the training stage, participants initially drive the SLS AMG GT3 on sport tires, after which the tires are switched for slick racing tires. The participants then train with an experienced personal trainer who may be booked on an hourly basis, with the focus lying squarely on skills like cornering techniques, perfect braking, acceleration and changing gear. Professional data and video recordings are also used for consistent monitoring and improvement of a participant's race track driving technique.
ADVERTISEMENT - CONTINUE READING BELOW ↓
Recommended Videos
The highlight of the SLS AMG GT3 Masters Program is the competition stage where, after a training session specific to the race circuit being used, the participants will first complete initial assessment tests that are then followed by individual and team competitions.
According to the AMG Driving Academy, while there are no particular requirements for taking part in the experience, participants have to complete appropriate race track training sessions before they can take part in the warm-up, training and competition stages. Are you ready to sign up?