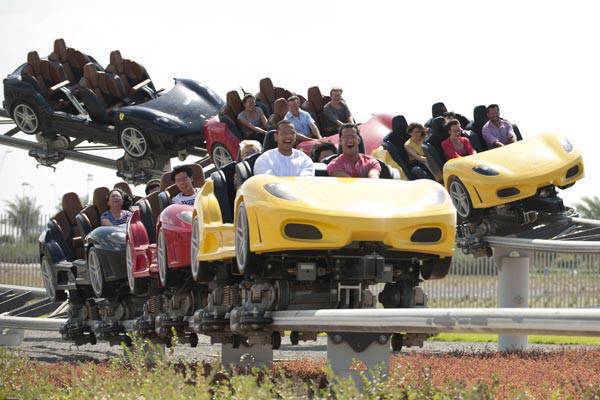 You know why the people in the photo above all wear silly grins? That's because they're having the time of their lives at the Ferrari World theme park on Yas Island in Abu Dhabi. Here's the good news: Shell, Ferrari's technical partner, is giving away a free slot so that one of you may join the Shell V-Power Network of Champions when they go visit the Ferrari World on November 19-21, 2011.
The lucky Top Gear reader who wins the slot will get the following:
* Free trip (for one) to the Ferrari World in Abu Dhabi (airfare and accommodations);
* A thrilling experience driving a car on the famous Yas Marina Grand Prix Circuit;
* A chance to meet and hang out with Shell V-Power Champs from the UK, Germany, the Netherlands and, of course, the Philippines (including the Chief and--in case you're a fan--Tim Yap).
Now, how do you win that Ferrari World slot? It's quite easy. First, tell us in 5 to 10 sentences WHY YOU DESERVE TO VISIT THE FERRARI WORLD WITH THE SHELL V-POWER NETWORK OF CHAMPIONS. Convince us that you have the same passion for performance as Shell and Ferrari do. All answers must be posted on the comment board below, together with the sender's e-mail address. Answers must be posted not later than midnight of October 23, 2011.
ADVERTISEMENT - CONTINUE READING BELOW ↓
Here are the other mechanics:
1. There are no purchases necessary;
2. Contestant must be at least 18 years old;
3. Contestant must be a resident of the Philippines;
4. Contestant must have a valid driver's license;
5. Contestant must have a valid passport on the date of the trip;
6. Contestant must possess a reasonable level of fitness; and
7. Contestant must not be employed by or affiliated with Top Gear Philippines, Summit Media or Pilipinas Shell.
An SVPChamps panel will then select the five (5) most convincing and most creative answers, the senders of which will each get a free full tank of premium Shell V-Power and, of course, qualify for the second and final round of the contest. Out of these five contestants will be picked the lucky winner of the Ferrari World trip package. The mechanics for the final round will be announced later on TopGear.com.ph. You may also follow the Shell V-Power Network of Champions Twitter account for updates.
ADVERTISEMENT - CONTINUE READING BELOW ↓
Recommended Videos
Meanwhile, to give yourself a glimpse of what to expect from the Ferrari World trip, check out this awesome ride aboard the Formula Rossa, said to be the fastest roller coaster in the world. After watching the video, start composing your answer. You only have 10 days to do so.
If you're viewing this on a mobile device and can't see the video, please click here.