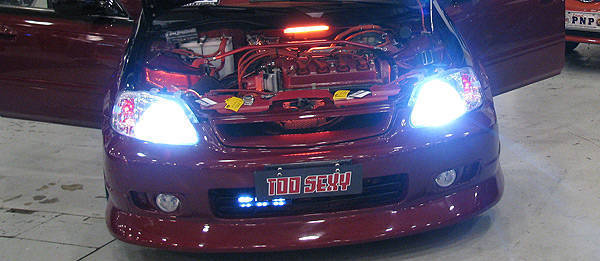 Motorists who have retrofitted their vehicle with aftermarket high-intensity discharge (HID) headlamps or xenon bulbs may find themselves in trouble if House Bill 3769 filed by Rep. Neri Javier Colmenares of the Bayan Muna party-list is passed into law.
Known as the Act Prohibiting the Use of High Intensity Discharge (HID) Headlamps, the bill filed by Colmenares claims that the excessive glare generated by HID or xenon headlamps inconveniences drivers and passengers of other vehicles.
"Many countries have prohibited or regulated the use of these headlamps precisely in response to the threat to road safety posed by its use," Colmenares said.
According to Colmenares, the bill seeks to address the problem posed by the use of non-standard headlights, "particularly bright and glaring white lights by vehicles that use HID or high intensity discharge headlamps."
"The use of these HID headlamps in vehicles, including refitting of tungsten-halogen headlamps to HID headlamps, is not in consonance with traffic safety standards," said Colmenares.
ADVERTISEMENT - CONTINUE READING BELOW ↓
The solon added that the distraction caused by the glare may result in serious accidents that not only endangers other vehicles and motorists but pedestrians as well.
Under the bill, any person or entity selling motor vehicles equipped with glaring lamps shall be fined P100,000 for every sale of a vehicle fitted with the headlamp. Registered car owners and drivers of a motor vehicle installed with or using the prohibited HID headlamp shall each be fined with P10,000.
Since retrofitting HID headlamps is illegal in major car manufacturing markets like the United States and Germany, do you think it should also be declared as illegal in a small market like the Philippines?
ADVERTISEMENT - CONTINUE READING BELOW ↓
Recommended Videos