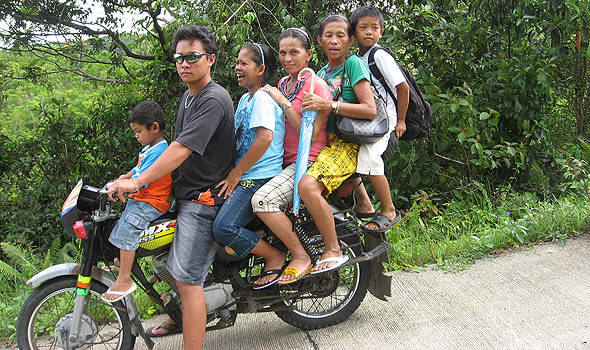 You've probably seen a habal-habal in rural areas before. These are the motorcycles-for-hire that have been converted to accommodate as many as 10 passengers, and are commonly used as public transportation in areas that aren't passable for four-wheeled vehicles. Long considered as a form of public service in the provinces, a solon wants local government units to regulate its use "for effective management and to protect both the operator and the riding public."
According to Rep. Pastor Alcover Jr. (Party list, ANAD), although the habal-habal is indeed illegal and unsafe, it should be recognized and respected as it came from the people's initiative to solve their transportation problem, which the government has failed to address. As such, regulating the habal-habal "will strike a balance between two different issues, namely, the vehicle's safety and the problem of transportation."
To this effect, Alcover has filed House Bill 6046, which recognizes the habal-habal as the solution to the transport problem in remote rural areas, thus needing to be managed and regulated effectively by local government units.
Besides regulating habal-habal units through the granting of franchises for them to operate within the jurisdiction of the local government unit that issued their operators' permit, the bill also enforces that a habal-habal "must carry not more than four passengers or loads not exceeding 300kg on each trip." (Good luck on this.)
Continue reading below ↓
Recommended Videos
Other conditions stipulated in the bill are that the habal-habal owner or operator should procure the necessary third-party liability insurance, and that the local government units should establish or designate a location to be used as a terminal by the habal-habal for loading and unloading passengers and cargo.
A habal-habal owner or operator who fails to register his or her operation will be penalized with a fine ranging from P3,000 to P5,000, or imprisoned from six months to three years--or both--at the discretion of the courts. The habal-habal will also be impounded until it is registered.
Photo taken from Flickr.com