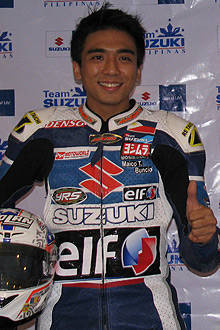 Nearly five months after champion motorcycle rider and 2011 Golden Wheel Awards' Driver of the Year Maico Buncio passed away due to injuries he sustained from a crash while he was running a qualifying lap for a race, the House Committee on Youth and Sports has directed the Philippine Sports Commission (PSC) to come up with implementing rules and regulations to prevent similar accidents from happening again.
"We are not in any way interfering with the affairs of the National Sports Association, we are only trying to enjoin everybody to work it out with the help of the PSC," said Rep. Renato Unico Jr. (1st District, Camarines Norte), chairman of the House committee as he told PSC officials and representatives of various motorcycle racing organizations to adopt safety measures in this field of sports. "Cognizant of the studies that most sports-related injuries occur during practices rather than actual games, this incident has once and again brought into our attention the importance of injury prevention and safety on all levels of sports."
ADVERTISEMENT - CONTINUE READING BELOW ↓
In response, PSC chairman Ricardo Garcia assured lawmakers that the agency and other stakeholders, namely the National Motorcycle Sports and Safety Association (NAMSSA) headed by Macky Carapiet, the Yamaha Racing Group, and Johnny Tan, operator and executive director of Batangas Racing Circuit and the Clark International Speedway, will come up with the safety measures to address the occurrence of accidents in the speedway. Buncio's accident happened at Tan's Clark International Speedway.
"Clear implementing rules and regulations needed for the motorcycle races must be formulated together with the different parties," said Garcia. "We will try to discuss and solve all problems being encountered at present, even the issues of conflict of interest, standardization of fees and charges and safety features of the race and tracks."
Committee member Rep. Janette Garin (1st District, Iloilo) pointed out that in all events, whether official games or qualifying practices, an ambulance with a doctor should be visible within the area.
ADVERTISEMENT - CONTINUE READING BELOW ↓
Recommended Videos
"The organizer should know the dangers of the game and should prepare for any eventualities and be a part of the mandatory prerequisite. An ambulance is just a car without a doctor," Garin added.