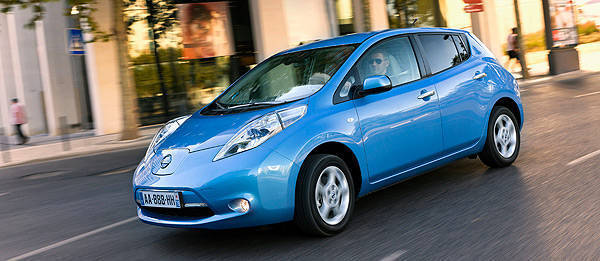 While the Pikes Peak International Hill Climb race is usually associated with vehicles that have a staggering amount of both horsepower and torque, the competition also sees a lot of less powerful vehicles on the starting line. As it so happens, for the 89th staging of the race this June, a stock Nissan Leaf will line up at the starting line.
Driven by Chad Hord, the Leaf and its 110hp, 80kW synchronous electric motor is the latest entry in the event's Electric Division.
Hord and his Leaf will go up against the division's defending champion, Japan's Ikuo Hanawa, who will once again be in his two-wheel drive EV Sports Concept Custom Summit HER-02 model.
Hord will be looking to beat the time set by Hanawa of 13:17:575 last year.
The Pikes Peak International Hill Climb started in 1916 and is America's second oldest motor sports race behind the Indy 500. The race is staged on a 12.42 mile course with 156 turns, which starts at an elevation of 9,390 feet and ends at the famous mountain's 14,110 foot summit above Colorado Springs.
ADVERTISEMENT - CONTINUE READING BELOW ↓
Do you think it stands a chance against an electric vehicle that was specifically designed to compete in the Pikes Peak race?
ADVERTISEMENT - CONTINUE READING BELOW ↓
Recommended Videos