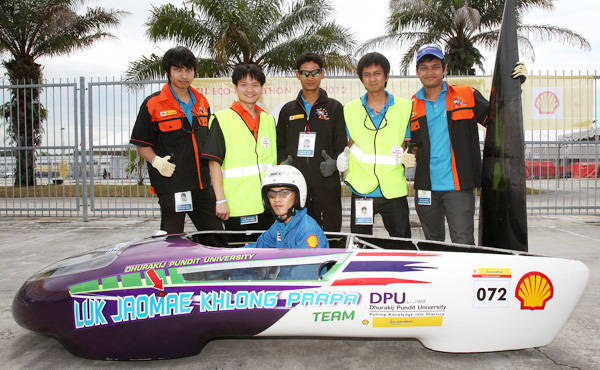 The 2012 Shell Eco-Marathon Asia--the Asian edition of Shell's annual super-mileage challenge--was concluded with a student team from Thailand breaking the event record (which this same team set last year) by more than 30 percent. This year, Team Luk Jao Mae Khlong Prapa (Car #72) of Dhurakij Pubdit University Thailand achieved 2,903km/L in the Prototype category, easily beating its 2011 record of 2,213km/L.
In the Urban Concept category, Team Cikal Cakrasvarna (Car #515) from Indonesia won by running 196.3km/L on gasoline.
This year's competition drew 119 student teams from 18 countries across Asia and the Middle East. The Philippines sent six teams.
Two Philippine teams received special awards. Team TIP Mileage (Car #62) from the Technological Institute of the Philippines was presented with the "Best Team Spirit" award for their "collaborative spirit, positive dynamics and highly energized attitudes."
Team DLSU Eco-Marathon (Car #306) from De La Salle University, competing in the Prototype category, received the "Technical Innovation" award for their innovative battery management system and smart cruise control function. "They had the most advanced telemetry system I have seen at Shell Eco-Marathon Asia," said judge Lee Grant from the Southwest Research Institute.
"Overall, the teams were much better prepared for this year's competition with 109 of 119 vehicles passing technical inspection--a significant improvement from last year," said Shell Eco-Marathon Asia technical director Colin Chin. "It's also been really encouraging to see student teams not just modifying their previous entries, but challenging themselves to create brand-new vehicles this year."
Continue reading below ↓
Recommended Videos
Indeed, most of the cars entered in both Urban Concept and Prototype categories were amusing to say the least. Here, we compiled photos of the 30 most visually arresting cars at the 2012 Shell Eco-Marathon Asia. Feel free to tell us in the comments box below which cars you like the most.
Anyway, here's proof that the world of automobiles will be entrusted to capable hands in the near future.