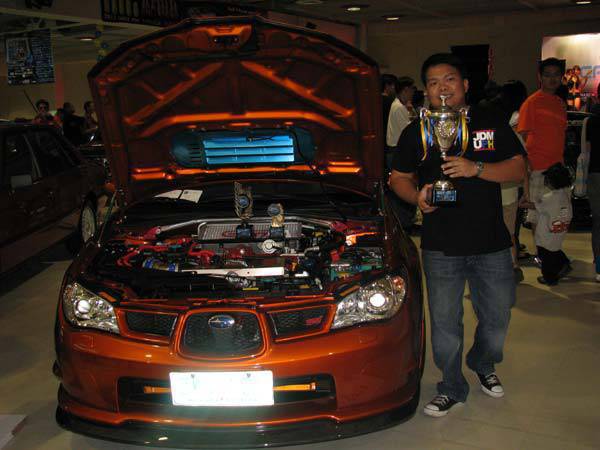 The College of St. Benilde (CSB) bagged close to half of the awards given out during the first-ever Campus Roadshow (CA.R.S.) staged by Face Off in SM Megamall just before the school year ended.
CSB, a school known for rich kids, bagged 16 of the 45 awards at the CA.R.S. Best of Show award winner CSB alumni Francis Casido's Subaru Impreza WRX STI also bagged the second place for the Best Engine Display and first place for the Best in Paint awards.
The Best of Show award is Casido's ticket to a four-day stay in Malaysia where he will watch the 2010 Super GT Championship.

Continue reading below ↓
Recommended Videos
In true, school-spirit fashion, the University of Asia and the Pacific (UA&P) won the Best Campus Presentation as its students gathered all their vehicles onto one side of the hall in a show of unity.
Other participants and winners came from the Emilio Aguinaldo College (EAC), University of the Philippines and the University of Santo Tomas. More than 80 cars and motorcycles participated in the first CA.R.S.
Major car awards
Best of Show
First: #19, Subaru Impreza STI (Francis Casido - CSB)
Second: #40, Hyundai Starex (Art Galang - CSB)
Best Engine Display
First: #8, Toyota Altis (Erwin Javier - SHC)
Second: #19, Subaru Impreza WRX STI (Francis Casido - CSB)
Best Body Kits
First: #41, Toyota Vios (John Paul Romilio - EAC)
Second: #43, Suzuki Swift (Jeff Rivera - CSB)
Best Interior
First: #10, Hyundai Starex (Art Galang - CSB)
Second: #43, Suzuki Swift (Jeff Rivera - CSB)
Best in Paint
First: #19, Subaru Impreza WRX STI (Francis Casido - CSB)
Second: #8, Toyota Altis (Erwin Javier - SHC)
Minor car awards
Best Mural: #27, Nissan Sentra (Marco Olives - St. Scholastica's College)
Best Graphics/Decal: #33, Nissan X-Trail (Tonton Llave)
Best Air Brush: #40, Hyundai Starex (Art Galang - CSB)
Best JDM-Inspired: #25, AE86 Trueno
Best EuDM-Inspired: #15, Mercedes-Benz 260E (Conrad Ti - UP-Diliman)
Best Old-School Ride: #18, Lancer EX box-type (Chris Uyehara - UP-Diliman)
Best In-Car Entertainment: #40, Hyundai Starex (Art Galang - CSB)
Best cars
Best Ford: #3, Ford Lynx (John Kevin Reyes - CSB)
Best Honda: Honda Civic VTI (Edbert Rodriguez - EAC)
Best Hyundai: #40, Hyundai Starex (Art Galang - CSB)
Best Mazda: Mazda 3 (Elijah Lim - UST)
Best Mercedes-Benz: #15, Mercedes-Benz (Conrad Ti - UP-Diliman)
Best Mitsubishi: #18, Mitsubishi Lancer EX - box-type (Chris Uyehara - UP-Diliman)
Best Nissan: #36, Nissan Skyline (Tonton Llave - UST)
Best Suzuki: #43, Suzuki Swift (Jeff Rivera - CSB)
Best Toyota: #8, Toyota Altis (Erwin Javier - SHC)
Best European: #51, Mini Cooper
Best American: #22, Chevrolet Trailblazer (Dan Lopez - UST)
Best 2-door: #13, Hyundai Genesis (Heindrich Charl Tan - UA&P)
Best Fullsize Truck: #21, Ford F150 (Dan Lopez - CSB)
Best Compact SUV: #1, Toyota Fortuner (Meynard Ko - CSB)
Best Fullsize SUV: #24, Mitsubishi Pajero
Special awards
People's Choice: #38, Mercedes-Benz SLK (Dan Lopez - UST)
Best Detailed Car: #39, Honda Civic VTI (Edbert Rodriguez - EAC)
Best Alumni Car: #7, Toyota Altis (Francis Ian Ignacio - UST)
Best Student Car: #26, Toyota Altis
Best Campus Presentation: UA&P