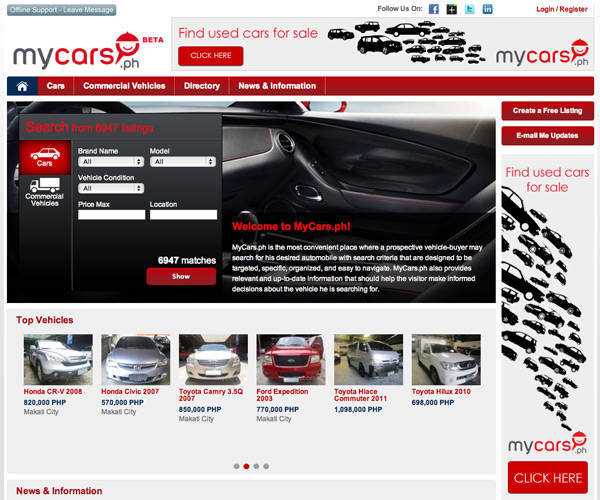 Most everything can be done online these days. With just a few clicks of the mouse, you can buy Maroon 5 concert tickets, book yourself a flight to Boracay, order the latest best-selling novel, even find yourself a spouse if you're that desperate. Why shouldn't you be able to thoroughly shop for a car in cyberspace?
The good news is: You now can. Get Sold Corporation, a joint venture between Top Gear Philippines publisher Summit Media and international media and technology company Ringier AG, today launches MyCars.ph, a vehicular classifieds website that brings car sellers and buyers together.
On this website, people looking for both brand-new and pre-owned vehicles get the experience of showroom shopping without ever having to hit the road and waste time in traffic. They can sell, buy, trade or swap their used cars. Young adults can look for their very first ride. New couples can hunt for the best car options. Entrepreneurs can search for utility vehicles for commercial or fleet use. Motorcyclists can check out new motorbikes. And car enthusiasts can even scour the website for much-needed modification parts.
Car-shoppers can look for vehicles via brand, model, vehicle condition, price and location. There are even photographs to accompany the cars being offered for sale.
Continue reading below ↓
Recommended Videos
"We want to offer dealers an opportunity to market their products and leverage on the efficiencies that a digital platform can offer," says MyCars.ph general manager Amina Rillo. "More people are now searching for cars online and we want to make sure they find the right one for them in just a few clicks."
MyCars.ph is still currently in beta version. When fully developed, its comprehensive directory section will feature hundreds of car-related businesses, including the types of products and services they offer as well as a provision for contacting them.