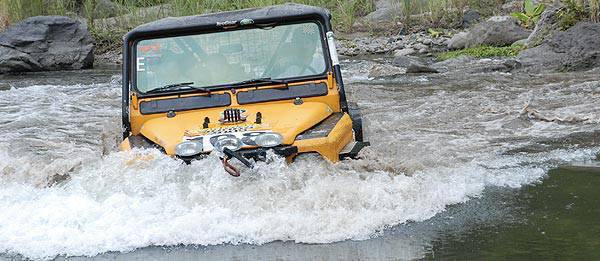 Land Rover Philippines (LRPhils Motors) is aiming for gold as it prepares for the 2nd Sanya Off-Road Rainforest Challenge (RFC) in China next week.
Team Land Rover Philippines will run a modified Land Rover Defender 90 powered by a 3.9-liter V8 gasoline engine.
"Although the diesel engine has a slight torque advantage compared to the gasoline engine, the gasoline engine has a lot more horsepower," Team Land Rover Philippines leader Robby Consunji said when asked about the engine option. "Since we've noticed that the RFC has been running more high-speed races besides the usual off-road challenges, we decided to go with the gasoline-powered V8 instead."
Team Land Rover Philippines will again field the multi-awarded off-roading duo Larry Mendiola and Atoy Jamilla III in next week's competition. Mendiola's son, Hirryan, will be the team's mechanic as he is also a professional mechanic at Land Rover Philippines.
Consunji said Team Land Rover Philippines will be up for quite a challenge with over 500 teams from 15 countries expected to join this year's rainforest off-roading competition. However, LRPhils executive director Marc Soong is confident in representing the country in Sanya.
"We have a great car and a great team," Soong said. "In this sport, we Filipinos are very competitive and always finish on top."
Last year, Team Land Rover Philippines ranked fifth in the overall tally besides being the overall champion in the Electric Winch category during the Sanya Off-Road Rainforest Challenge. The team also bagged the First Island Entry Award, which is given to the first foreign team to arrive at the off-road event.
ADVERTISEMENT - CONTINUE READING BELOW ↓
"We believe in the ability of the Filipino off-road racers to excel in international extreme off-road adventure competitions," Consunji said."This is a passion for living out the 4x4 adventure. We are joining this race in China not only to compete, but to showcase driving abilities of our Filipino off-road racers and to bring pride to our country and our sponsors."
Support Team Land Rover Philippines by posting a message for the group using our comment box below.
[gallery]531[gallery]