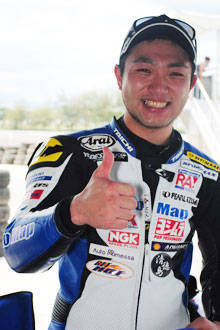 Suzuki Philippines has tapped Japanese rider Yusuke Teshima to be part of Team Suzuki Pilipinas in its bid for the Asia Road Racing Championship (ARRC). Teshima is replacing Maico Buncio, known as the fastest Filipino man on two wheels, who passed away in May.
This move clarifies earlier speculations that Team Suzuki Pilipinas may shelve plans to join the international competition after the accident that killed Buncio.
"We are not stopping our journey to the ARRC. We are going to offer the ARRC to Maico and Suzuki will achieve his dream for him," said Suzuki Philippines president Satoshi Uchida.
Uchida said Suzuki "could not have chosen a better replacement for Buncio."
Teshima, who will compete in the ARRC's SuperSports 600cc Category, won in the Superstock 600 class in the All-Japan Road Race Championship in 2009. He was also the wildcard rider for six legs in Moto 2--which is just a notch lower than MotoGP--in 2010.
ADVERTISEMENT - CONTINUE READING BELOW ↓
The Japanese rider was also among those asked by Suzuki Philippines to coach and assist Maico in his ARRC preparations and the team said "it is only fitting that he will take Buncio's place."
Suzuki said Teshima will compete in the second and the remaining legs of the ARRC until the team finds a Filipino rider to finish the series. Teshima will join the ARRC under Team Suzuki Pilipinas with John Lery Enriquez, who is competing in the Underbone 115cc category.
"Although his ride with Team Suzuki Pilipinas is only temporary, Teshima will wave the Philippine flag loudly and proudly," Suzuki Philippines said. "And as he becomes part of Team Suzuki Pilipinas, he will surely get Filipinos' support in conquering the roads to the ARRC."
ADVERTISEMENT - CONTINUE READING BELOW ↓
Recommended Videos