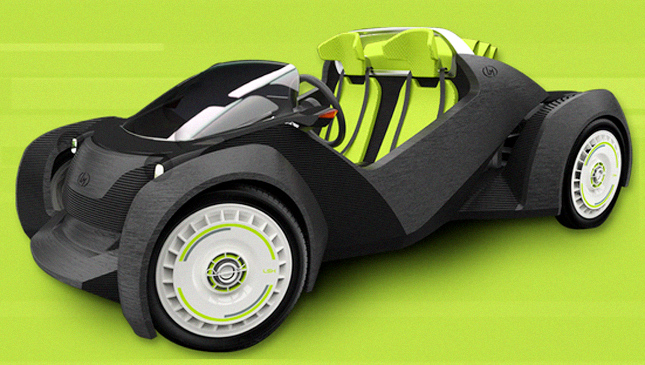 You see that sick two-door coupe on display over there? That's going to set you back a couple of million bucks. You're not just paying for the car per se--you're also shelling out for distribution, taxes, marketing, even brand equity. And that's not even taking into account the environmental cost of the vehicle.
Well, what if we told you that one day, there's a possibility you could cut all that unnecessary cost and waste? Ladies and gentlemen, give a warm round of applause to the arrival of 3D-printing technology.
A 3D printer works via a computer-controlled laser that is used to fuse together raw materials--such as plastics, metals, resins and polymers--to create an object, layer by layer, based on a design. The technology has taken the world by storm over the past few years, adding whole new playing fields to entire industries, including car manufacturing. The applications for 3D tech, automotive-wise, are endless--as long as you've got the imagination (and the printer, of course). Amateur designers have been printing everything from hoods to fenders, even the entire car body. It has taken the concept of "do it yourself" to a whole new level.
Back in 2013, Wired magazine even featured Aston Martin fan Ivan Sentch, who actually went through the trouble of printing out a replica of his dream car, a DB4. Take note that Sentch isn't some kind of design wiz or engineering genius--all he needed was a 3D design which he downloaded from the Internet and modified; a 3D printer; and a lot of hard work and dedication. Sentch estimates that the project would take him three to five years to complete. He also says that he must have spent around $2,000 on the plastic necessary for the project. That's a far cry from the $500,000 or more he would have had to shell out for the actual car at an auction.
ADVERTISEMENT - CONTINUE READING BELOW ↓
Hell, even Pinoy car nuts are already using 3D printing to produce customized bodywork. Ian King of Car Porn Racing has been hard at work taking advantage of similar technology, with pretty awesome results.
Okay, so maybe you're thinking: "That's neat, but surely, we're still a couple of years from using this technology to mass-produce entire vehicles." Well, you're wrong.
Local Motors, a Tennessee-based car company, is already producing a fully functional 3D-printed car called the Strati, a tiny two-door electric vehicle made from durable carbon fiber-reinforced plastics. Its electric motor is mated to a single-speed automatic transmission, and it's capable of a modest 80kph speed. It runs on a 6.1kWh battery with a 100km range and a 3.5-hour charging time. The best part? The car can be yours for just an estimated $5,000.
The Strati isn't the prettiest-looking electric vehicle out there. It has a rough, unfinished feel to it, thanks to layer upon layer of plastic (some parts of the interior look as though they just came out of the printer). But that same plastic is what makes the vehicle so earth-friendly, the entire body and frame can be melted down for recycling (and for rebuilding, in case you total it). Still, the design looks quite novel, despite the unpolished finish.
ADVERTISEMENT - CONTINUE READING BELOW ↓
Recommended Videos
According to its website, Local Motors plans to open "100 microfactories" around the world within the next 10 years, with the goal of promoting recycling, reducing distribution costs and production waste, and creating jobs for local communities. Cheaper and cleaner cars? Sign us up! Hopefully, there's a chance we'll see the Strati humming briskly along EDSA one day.
We're calling it now: 3D-printing technology is going to be a huge deal for the auto industry in the near future. It has been used by manufacturers for engine development and design among other applications, but it has never been as accessible to the masses as it is now. This technology is potentially capable of reshaping the face of the auto manufacturing industry. What we're seeing now is only the tip of the iceberg.
Watch the video below and tell us what you think.
If you're viewing this on a mobile device and can't see the video, please click here.