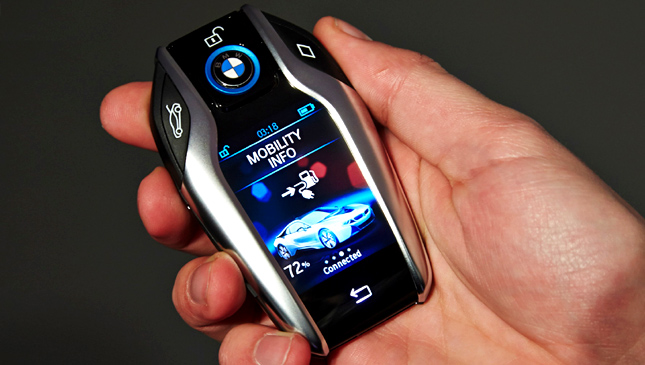 When it comes to technology, it's the little things that count. Even the smallest gadgets are capable of so much. The tech guys over at BMW must have kept this in mind when they came up with what could possibly be the coolest car key ever. Guys, say hello to the BMW Display Key, the future of vehicle access technology.
The Display Key comes as an optional item for the all-new BMW 7-Series (as if the car wasn't cool enough on its own). For just $250 (P11,700) extra, you can have a key that has four buttons for the door locks, the trunk release, and the panic mode!
Okay, we're kidding. It does a whole lot more than that (it damn well better for that price). The Display Key features a full-color touchscreen display at the center of the unit where you can choose different modes and options via swiping. The display shows you the door-locking status, fuel range, and climate control scheduling. You can even toggle your lights with it. The Display Key actually offers a self-parking feature, but it has yet to be approved by the US regulatory boards.
The German automaker claims that the key has about a week's worth of juice, though charging shouldn't be a problem because the unit does so wirelessly via the car's armrest. It's amazing what technology can do these days. Next thing you know we'll be accessing all our car features via smartphone. Like they say: "There's an app for that." Now, if only the key could shut off the car whenever the owner drove like an asshole.
ADVERTISEMENT - CONTINUE READING BELOW ↓