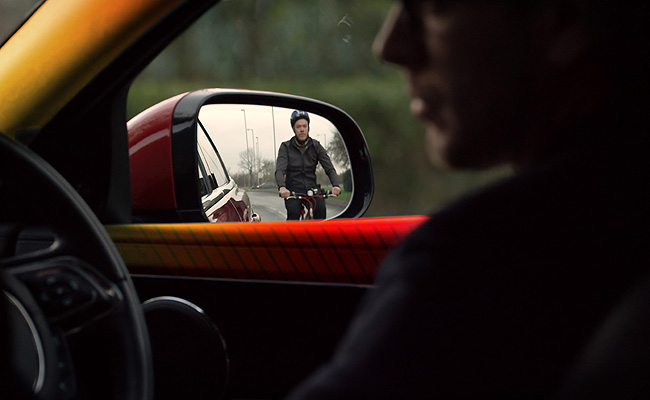 Jaguar Land Rover is currently working on a system that will alert the driver of its vehicles of potential hazards involving bicycles and motorcycles.
Called Bike Sense, the technology makes use of sensors that can detect if an approaching object is a bicycle or a motorcycle, and alert the vehicle's driver.
To help the driver know the bicycle or motorcycle in relation to the car, the car's audio system will alert him or her through the sound of a bicycle bell or motorcycle horn coming from the in-car speaker that's nearest to the bike. If the two-wheeled vehicle is coming up from behind the car to overtake it, the system will alert the driver by extending the top of the car seat to "tap" the driver either on the left or right shoulder, supposedly with the idea that the driver "will then instinctively look over that shoulder to identify the potential hazard." As the cyclist approaches the car, a series of LED lights on the window sills, dashboard and windscreen pillars will light up in amber and then red as the bike approaches, with the movement of the lights across the surface identifying the direction the bike is taking.
Bike Sense can also reportedly identify hazards that the driver cannot see. If a pedestrian or cyclist crossing the road is obscured by a stationary vehicle, the car's sensors will alert the driver using directional light and sound. If the driver ignores the warnings and presses the accelerator, the system will stiffen or vibrate the accelerator pedal, "so the driver instinctively knows not to move the car forward until the hazard has been avoided."
Continue reading below ↓
Recommended Videos
Bike Sense will also prevent vehicle doors being opened into the path of bikes when the vehicle is parked, and warn passengers of an approaching cyclist, motorbike or car through sound and light inside the vehicle. If a passenger continues to open the door, the door handle will light up, vibrate and buzz to alert them to the danger.
"By engaging the instincts, Bike Sense has the potential to bridge the gap between the safety and hazard detection systems in the car and the driver and their passengers," said Jaguar Land Rover director of research and technology Wolfgang Epple. "This could reduce the risk of accidents with all road users by increasing the speed of response and ensuring the correct action is taken to prevent an accident happening."
If you're viewing this on a mobile device and can't see the video, please click here.