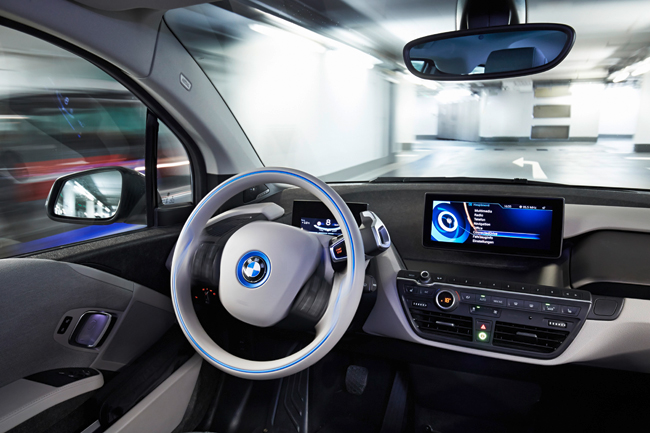 It's safe to say that most of us really like owning a car. But one part we can do without if given the chance is parking. Still, we do it because it's a necessity. But what if your car can park itself for you?
This is the technology proposal BMW will demonstrate at the Consumer Electronics Show in Las Vegas next month. The magical feature is called Remote Valet Parking Assistant, and it does this amazing feat using laser scanners and the digital map of the building (ideally a multi-story parking structure). The research vehicle being used to demonstrate the Remote Valet is the BMW i3.
How the system works is simple: Upon entering the parking structure, the driver gets off and activates the Remote Valet Parking Assistant via his smart watch. Using its sensors and the map of the building, the fully automated i3 navigates its way through the levels all the way to its parking space. The press release was a little vague on whether the car can find its own space or a specific slot has to be assigned to it.
Once the i3 is parked, it locks its doors and awaits further command from the smart watch. When the driver sends for the i3, the Remote Valet can calculate the exact time until the driver arrives at the car park, and starts the electric BMW so that it arrives at the car park exit at the right time. We bet it can activate the air-conditioning as well, like how Filipino bosses tell their drivers, "Palamigin mo na yung auto."
Continue reading below ↓
Recommended Videos
The Remote Valet-equipped i3 uses sensors and a building plan because in enclosed spaces, GPS signals are hard to come by. The i3 can also adapt and stop itself if there are obstacles like improperly parked cars.
Obviously, there are still many hurdles before this feature can be fully implemented in a BMW road car that is sold to the general public. Yet it wasn't that long ago when the idea of automobiles that could parallel-park themselves seemed astounding. Today, many vehicle models have this feature. Given enough time, we believe BMW can make the Remote Valet Parking Assistant a reality for the real world.