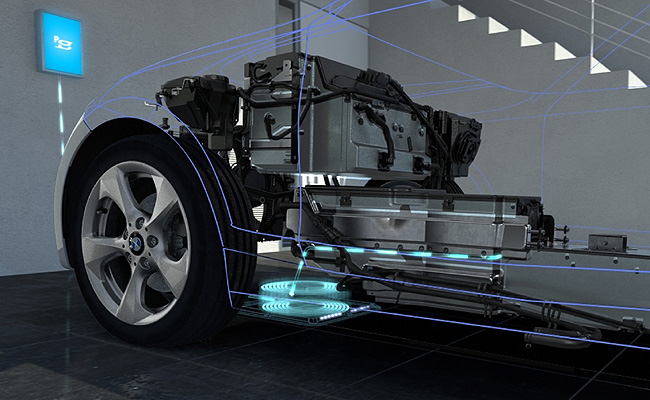 With the all-electric BMW i3 and i8 plug-in hybrid sports car now on sale, the German carmaker is now looking to produce wireless inductive charging for its i cars and the high-voltage batteries of its future plug-in hybrid models.
According to BMW, the biggest advantage of inductive charging over the conventional method is the cable-free connection between the charging station and the vehicle's high-voltage battery.
The system supposedly consists of two components: a secondary coil in the vehicle floor as well as a base plate with an integral primary coil that is located underneath the car, like on the garage floor. The electrical energy is then transmitted via an alternating magnetic field generated between the coils--"contact-free, without charging cables and at a charging rate of 3.6kW." With an efficiency factor of over 90%, this method reportedly charges the vehicle's high-voltage batteries "efficiently, conveniently and safely."
In addition, with the aforementioned charging rate of 3.6kW, it takes less than three hours to fully charge the high-voltage batteries on many plug-in hybrid vehicles. BMW even claims that it takes less than two hours to charge the i8 using a fully working prototype of an inductive charging station. BMW also foresees the possibility of increasing the charging rate to 7kW "to make allowance for the higher storage capacities of high-voltage batteries in pure-electric vehicles." This reportedly ensures that the battery on the i3 can still be fully charged overnight when using the inductive system.
BMW claims that its inductive charging facility can be used regardless of the weather conditions since neither rain nor snow has a negative effect on the power feed as all of the system's conductive components are protected. During charging, ambient electromagnetic radiation is also kept to a minimum with the space between the primary and secondary coils being permanently monitored, "allowing charging to be halted instantly if any foreign bodies are detected."
ADVERTISEMENT - CONTINUE READING BELOW ↓
Aren't you stoked over the future of the automobile?