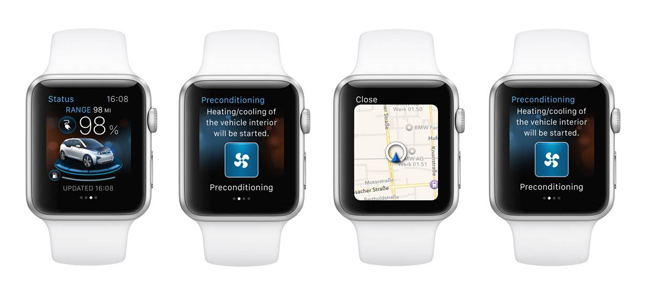 With the Apple Watch being delivered to its first adopters recently, BMW and Porsche are among the first car brands to announce that their vehicles can be connected to the tech giant's latest product.
Through the i Remote app for BMW and Car Connect for Porsche, Apple Watch owners can remotely check and control the function of their vehicles--the i3 and the i8 for BMW and the 918 Spyder, the Macan, the Panamera and the Cayenne for Porsche--without having to take their iPhones out of their pockets.
Downloadable for free from the Apple iTunes Store, both the i Remote and Car Connect apps allow Apple Watch users to be updated with their vehicle's status. For vehicles that are either fully electric like the BMW i3, or plug-in hybrids like the BMW i8, the Porsche 918 Spyder and certain variants of the Panamera and the Cayenne, both apps will also update its wearer of the vehicle's current battery status and alert him when it's fully charged.
ADVERTISEMENT - CONTINUE READING BELOW ↓
Both apps can also reportedly assist its users by guiding them to their destination via navigation instructions from the car after it has been parked as well as instructions going back to the car (isn't this super convenient?). In addition, both apps can also activate the vehicle's climate control system and set the cabin temperature to a preprogrammed setting. A vehicle owner can also find his car in a crowded parking lot using the Apple Watch by activating the vehicle's horn or lights.
The i Remote and Car Connect apps will likewise inform its wearer if the vehicle's windows, doors, trunk lid or sunroof are closed or unlocked, and allow him to lock it simply by touching the corresponding display on the Apple Watch.
Do you think the Apple Watch will soon make your vehicle's stock remote-control keyfob obsolete?
ADVERTISEMENT - CONTINUE READING BELOW ↓
Recommended Videos